Angel Mou Pui-Peng - Singapore.
<![if !vml]>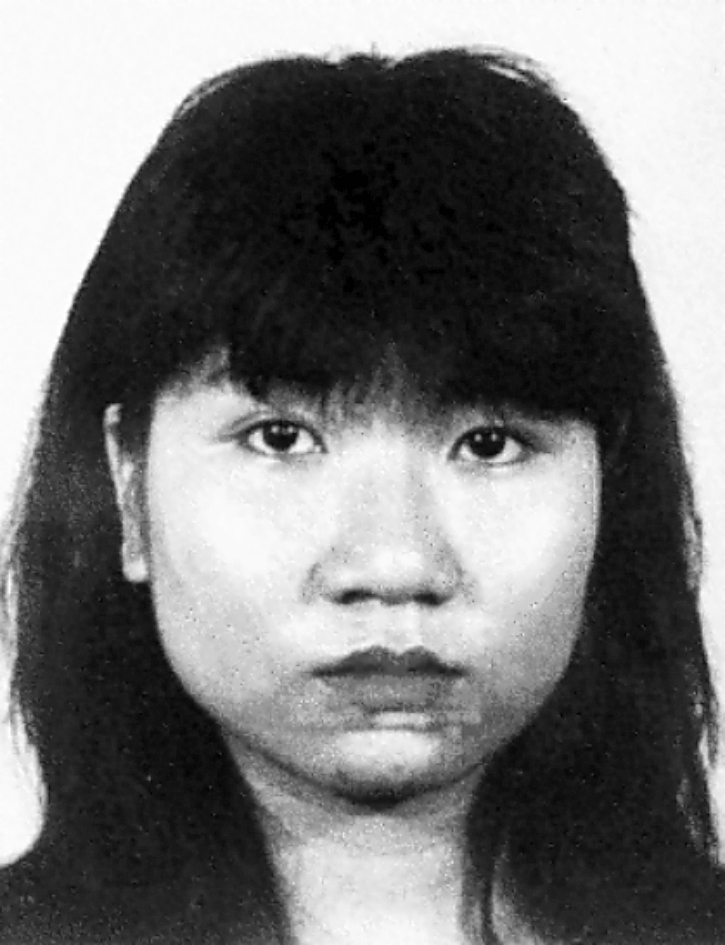 <![endif]>Angel Mou Pui - Peng, a 25 year old unmarried mother, was hanged in Changi prison before dawn on Friday the 6th of January 1995. She became the 95th person (and third woman) to hang under Singapore's strict 1975 anti-drug laws. Cheuk Mei-mei, 29, also from Hong Kong, was executed in 1994 and another three women were executed for drug trafficking in 1995 including two who were only 18 at the time of their crime. Altogether 30 people were hanged in Singapore for drug trafficking in 1995 with a further six men and one woman (Flor Contemplacion) being hanged for murder. Although there have been more female executions for murder, only one other woman has been hanged for drug offences since the end of 1995. (Navarat Maykha, a Thai national, was executed in September 1996.)
Under Singapore law, the death sentence is mandatory for anyone over 18 convicted of trafficking in more than 15 grams (half an ounce) of heroin, 30 grams (one ounce) of morphine or 500 grams (18 oz.) of cannabis. Prisoners have an automatic right of appeal to the Appeal Court and if that fails, may petition the President for mercy. However, death sentences are virtually always carried out. I know of only one case where a reprieve was granted - to a Burmese man who was completely illiterate and clearly had no idea that he was committing a crime.
Angel was arrested at Singapore's Changi airport on August the 29th, 1991, after arriving from Bangkok, with a suitcase containing 20 packets totaling over 4.1 kg of heroin according to The Central Narcotics Bureau. At her trial, she claimed she did not know the false-bottom suitcase contained heroin and thought she was carrying contraband watches instead. She was found guilty and sentenced to death in 1993 and as usual in Singapore, both her appeals were rejected.
However, she was granted a temporary stay of execution on the 22nd of December 1994, apparently to allow her family to visit her over Christmas, after a plea by her mother and nine year old son, having been originally scheduled to hang on Friday the 23rd of December with two Singaporean drug traffickers.
On the eve of her execution, her lawyer Peter Yap said that she was "normal and calm" when he saw her. He said she "was emotionally stable and prepared to die. Spiritually she was very strong." He also said Angel was comforted by the settlement of guardianship for her son. The day before her execution, she would have been weighed by Singapore's executioner, Darshan Singh, to enable calculation of the correct drop.  The British Home Office 1913 table of drops is still used. Unusually, Angel was executed on her own (due to the stay.) At about , she would have been escorted by her guards to a waiting room to be prepared. Shortly before her hands would have been handcuffed behind her back and a black cloth hood placed over her head.  She would then have been led the few meters to the gallows at local time. Her legs would have been strapped together and the leather covered noose placed round her neck. Singh then told her "I am going to send you to a better place than this. God bless you."
After execution, the body was returned to relatives and she was cremated in the early evening at Mount Vernon crematorium after a short service attended by her family and friends.
"Our sister Angel has now been taken to heaven - a place we will go and we shall hope to see her there one day," an elderly pastor, speaking in Cantonese, told the congregation of some 25 people.
"When are you coming back to Hong Kong?" a young woman cried in Cantonese as she, Angel's sister, Cecilia, and a few others watched the coffin, covered in black velvet, disappear into the furnace.
Her father, reportedly reconciled with his daughter during her brief stay of execution, broke down uncontrollably after the cremation.
Macau was a Portuguese province and the President of Portugal, Mario Soares and the Portuguese government appealed for clemency on the grounds of Angel's youth and the fact that she was only a carrier. But according to Portuguese officials, Singapore said it could not differentiate between foreigners and its own people.
The Governor of Macau expressed deep sorrow and called the execution "revolting," the Portuguese news agency Lusa reported. "For someone like me who is a citizen of a country that takes a pride in being one of the first that abolished capital punishment, the loss of human life is something that is incomprehensible and even revolting," Lusa quoted Governor, Rocha Vieira Vasco as saying in a message to Angel's mother. Chris Patten, who was at the time the Hong Kong Governor, said the British colony had supported a plea for clemency put forward by Britain and the European Union.
Comment.
Does this seem a sadly familiar story, the teenage girl who is at loggerheads with her parents and gets pregnant at 16? She inevitably drifts into poverty and crime and becomes an easy target for exploitation by those who make a fortune from drugs. Sadly she was sent as a carrier to one of the few countries in the world where they have no compunction about executing young women. Whilst I accept that she was guilty, I doubt somehow that she was evil but rather think her motive was purely the small sum she hoped to make had she got away with it.
Whether you feel that people should die for drug trafficking is a another question, but at least, unlike so many countries, Singapore carries out death sentences even handedly and does not discriminate on the grounds of sex, race or age above the minimum, which is 18. As usual, it refused to bow to outside pressure (from Portugal, Hong Kong and the E U).
However, many people may feel that death is an extreme penalty for merely carrying the drugs for which the "mules", as they are known, usually receive very little reward whilst the "Mr. Bigs" make millions from the safety of their mansions. Equally there are many who admire Singapore's tough and unbending stance on crime which has helped to make it a safe and prosperous country. Interestingly most Singaporeans support their tough laws and executions rate just a paragraph or two in the press, if mentioned at all.
Why is it that even in countries like Singapore and Malaysia people are still not deterred from crime by the death penalty? Are they stupid, desperate for money or do they think that somehow they won't be caught.
Angel may or may not have known what she was carrying, but even if you believe her story, she knew she was smuggling which, no doubt, would have carried a heavy prison sentence in Singapore.