Armley prison opened in Leeds in the West Riding of Yorkshire in 1847 and was constructed on the then modern penitentiary principal with four radial wings. It was a grim and forbidding building in line with the Victorian ideas of prison and was responsible for housing prisoners sentenced in the West Riding of Yorkshire. It also took over duty of carrying out West Riding executions from York Castle. Ninety three men and one woman were to suffer the death penalty at Armley between 1864 and 1961. An average of almost exactly one per annum.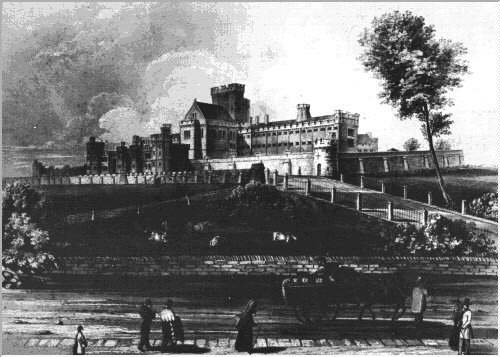 Armley in the late 19th century
Executions at Armley.
There was to be only one public execution outside the jail - a double hanging on the 10th of September 1864. It was of murderers James Sargisson and Joseph Myers. Myers had tried to cheat the hangman by cutting his throat while in prison but was saved by the surgeon. The hangings were reported in detail by The Leeds Mercury newspaper which claimed that between 80,000 to 100,000 people had come to watch the event on that Saturday morning. At five minutes to nine, the prison bell began to toll and inside the two men were being pinioned by Thomas Askern of York. They were led out onto the gallows supported on each side by warders and preceded by the Under Sheriff and the Chaplain. Askern pulled down the white caps over their faces but both men continued to speak, Sargisson's last words to Myers were reportedly "Art thou happy lad?" to which Myers responded "Indeed I am."  Askern then operated the drop which fell with a thud, their bodies being almost completely hidden from the crowd. Myers seemed to die almost immediately, but Sargisson struggled for some minutes. As feared the wound in Myers' throat had re-opened and there was an amount of blood on his shirt. After hanging the customary hour, they were removed from the gallows and buried within the prison.
Botched executions were not uncommon at this time and "a shocking scene" was reported by the Yorkshire Post newspaper following the hanging of 37 year old John Henry Johnson on Wednesday the 3rd of April 1877. Johnson had been condemned for the murder of Amos Waite who had been showing interest in Johnson's wife Amelia on Boxing Day 1876. After a drunken quarrel in the pub where they were all drinking, Johnson went home, returning a little while later with a gun and shooting Waite in the chest. Thomas Askern was called to Leeds to dispatch Johnson and had made the usual preparations on the Tuesday afternoon, but when he pulled the lever the rope broke and Johnson plummeted through the trap. He was immediately rescued by the warders who removed his straps and hood and sat him on a chair. It took Askern 10 minutes to rig a new rope and reset the trap before Johnson could again be led up onto it. This time the rope held but it was reported that Johnson "died hard" struggling for some four minutes on the rope. His death was formally recorded as being from asphyxia but no official mention was made of the failure of first attempt to hang him. It was to be Askern's last execution at Armley.
The most infamous Victorian criminal to die at Armley was Charles Peace who was hanged by William Marwood on Monday, February 25th, 1879 "For that I don but never intended" as Peace said. Peace was a violent career criminal who had murdered two people, one of them a police constable and was serving life in prison for armed robbery and the attempted murder of another policeman who was trying to arrest him. Peace was born in Sheffield in May 1832 to non criminal parents. By the age of 14, he was working in a steel works where he was badly injured in the leg by a piece of red hot steel. After this, he turned to crime with his first recorded conviction being for house burglary in 1851, for which he was given a month in prison. His next conviction for the same offence came in October 1854, when he was sentenced to four year's penal servitude at Doncaster Sessions. This was followed by a six year sentence in 1859 and an eight year sentence in 1866. He tried to escape during this term of imprisonment but was recaptured and was to spend the next six years in various prisons up to 1872, after which he returned to Sheffield. In 1875, Peace moved out of Sheffield into the suburb of Darnall where he met a Mr. and Mrs. Dyson. Peace was a womaniser and began having an affair with Mrs. Dyson, or at least so he claimed and she denied. She had certainly gone out with him to music halls and pubs but it seems that she had rejected his sexual advances and this was something he was not happy about. Peace threatened to kill Mr. Dyson and he, in turn, took out an injunction against Peace in the hope of him leaving the couple alone. Peace did for a time, moving to Hull and opening a café. His burglaries continued and one night he went to Manchester, armed as usual with his revolver. Peace was spotted by two policemen in the grounds of a house at Whalley Range, around on the 1st of August 1876. Constable Cock tried to arrest him but Peace took out the revolver and warned Cock to stand back, firing a warning shot at the officer. Cock took out his truncheon and advanced towards Peace, who fired a second time, killing him. Peace was able to escape and get back to Hull and two local villains, brothers John and William Habron, were arrested for the crime. William was convicted and sentenced to death but fortunately reprieved and later pardoned.
Peace's second murder was to be that of Mr. Arthur Dyson on the 29th of November 1876, whose wife he still desired. He went to the Dyson's home and during an argument shot Mr. Dyson through the head, killing him instantly. Once again, he was able to escape back to Hull where he was nearly arrested as Mrs. Dyson had been able to identify him as her husband's killer. A reward was offered for his capture and he was now the nation's most wanted man moving constantly from one town to another, eventually ending up in London, where he was to evade capture for over two years. Peace had always had a love of music and musical instruments and set up as a dealer in them, partially as a front to his usual business of house burglary. He sometimes carried his burglary tools in a violin case when he went out on a job. He was able to live in some style from the proceeds of these activities, with a "Mrs. Thompson" as his mistress. This married lady's real name was Susan Bailey and she was eventually the one who betrayed him. His career as a burglar in London lasted from the beginning of the year 1877 until October the 10th, 1878, when he was finally caught red handed by three policeman in Blackheath trying to rob a house. Peace fired several shots at one officer before he was overpowered. When he was questioned he gave his name as John Ward and was tried under this name. Susan Thompson was also arrested for trying to sell stolen property and identified Ward as Peace for whom there was a reward out, which she hoped to obtain. An officer was sent down from Yorkshire and was able to positively identify Peace in Newgate prison. Peace stood trial at the Old Bailey in November 1878 on the charges of burglary and attempted murder and was sentenced to life in prison. However, he had now to answer to the charge of the murder of Mr. Dyson and so was moved by train to Sheffield, where he was charged with the murder of Arthur Dyson on January 18th, 1879. During the journey north, he attempted to escape by throwing himself out of the train but was quickly recaptured. His trial before Mr. Justice Lopes began on the 4th of February 1879. Mr. Campbell Foster, Q.C., led for the prosecution. Peace was defended by Mr. Frank Lockwood. Mrs. Dyson was to be the principal witness for the Crown and described the murder of her husband to the court. Forensic evidence was able to show that the bullet which killed Mr. Dyson was fired from the revolver recovered from Peace when he was arrested in London. Late in the afternoon the jury retired and took just 10 minutes to convict Peace, who was then sentenced to death. The Times newspaper reported that since Franz Muller murdered Mr. Briggs on the North London Railway and the poisonings of William Palmer, no criminal case had created such excitement in the public mind as that of Charles Peace. Peace confessed in the condemned cell to the murder of PC Cock and thus William Habron was given a pardon. His hanging was scheduled for Tuesday the 25th of February and, although in private by this time, was attended by four newspaper reporters. As Marwood attempted to place the white hood over Peace's head, he asked for a glass of water (which was refused) and spoke to the journalists, which he was allowed to do before Marwood pulled the lever. His last words were reported to be "My last thoughts are for children and their mother, a wonderful woman, they mustn't worry about me I know where I am going. I am going to Heaven."  No doubt every detail of the hanging was lapped up by the public the following morning. A large tableau of Peace and Marwood soon appeared in Madame Tussauds waxworks, depicting the execution scene.
James Billlington's first execution was at Armley Gaol in Leeds on the 26th of August 1884 when he hanged a hawker from Sheffield called Joseph Laycock for the murder of his wife and four children. Laycock was to have said just before being hanged "You will not hurt me?" to which James Billington replied, "No, thaal nivver feel it, for thaal be out of existence i' two minutes."
On Tuesday the 29th of December 1903, Emily Swann, the only woman to be executed at Armley, was hanged by William Billington and John Ellis, beside her 30 year old lover John Gallagher, for the murder of Swann's husband William. Hooded and noosed on the trap doors, Emily said "Good morning John" to which he replied "Good morning love."  Emily replied "Goodbye, God bless you" before the drop fell ending any more conversation. Click here for a full description of this famous case.
Twenty eight year old Edwin Sowerby, a miner from Crofton near Wakefield, was hanged on Thursday, December 31st, 1920, for the murder of his former girlfriend,19 year old Jane Darwell. He had taken the break up of the relationship very hard and when he saw Jane at the village dance in the schoolroom at Crofton on the night of October 25th, he walked over to her and cut her throat in front of several witnesses. His defence at the trial was one of insanity due to war injuries in World War I, but this was not accepted by the jury who found him guilty after just 20 minutes. Sowerby was visited in prison several times by his parents and on the day before execution, his brother and sister had their last interview with him. He handed over to his sister the whole of his personal belongings except for a photograph, believed to be that of Jane, which he took to the gallows. This was the 50th execution at Armley and was carried out by Tom Pierrepoint. An inquest was held after it by the City Coroner (Mr W. H. Clarke) and the jury certified that death was due to dislocation of the vertebrae caused by hanging, duly and properly carried out.
On the 3rd of September 1925, Tom Pierrepoint carried out a double hanging at Armley and on the following day a further single execution. The first two prisoners were Alfred Bostock who had killed his mistress, Elizabeth Sherratt and 23 year old Wilfred Fowler, who was a Sheffield gangster who had taken part in the murder of an ex boxer called William Plommer in a street ambush. Fowler's brother and leader of their gang, Lawrence, was to die the following day for the same crime.
Alfred Bostock and Elizabeth Sherratt both worked for the Parkgate Ironworks in Rotherham and had fallen for each other virtually on sight. Albert was married but had a passionate affair with Elizabeth which went along very well until Elizabeth announced that she was pregnant, a setback that Alfred could simply not accept. On May 3rd, 1925, her body was found floating in the river at Rawmarsh - she had been battered to death. Bostock was the prime suspect and quickly arrested for the murder. He presented a weak alibi in his defence and although the evidence against him was circumstantial, it only took the jury 15 minutes to convict him. It is unclear why he was hanged alongside Wilfred Fowler and not alone. One surmises that the prison authorities thought there would be trouble between the Fowler brothers so had decided to hang them separately. Lawrence and Wilfred Fowler were leaders of a Sheffield gang that had been terrorising the city for some time and who considered themselves beyond the law. One of the gang's members, Trimmer Welsh, had got into a fight with William Plommer over his treatment of the barmaid in the pub where they were both drinking, and Plommer gave the man a good hiding. Plommer was ambushed by another two members of the gang, including young Wilfred Fowler, but they were no match for this powerfully built and courageous ex fighter either. Two defeats for the gang were more than its pride and arrogance could stomach so a mob of a dozen or so went to Plommer's house and when he came out to face them, they beat, stabbed and kicked him to death. They were soon rounded up, some getting prison sentences and Lawrence and Wilfred, being convicted of murder, sentenced to hang. Their executions brought to an end the gang terror in Sheffield in the 1920's.
The last double execution at Armley was that of Thomas Riley and John Roberts on the 29th April 1932. It was carried out by Tom Pierrepoint, assisted by Thomas Phillips and Alfred Allen and took a reported 90 seconds to complete. Riley was hanged for the murder of 52 year old Elizabeth Castle who had befriended him whilst Roberts was executed for the unrelated murder of greengrocer Alfred Gill whom he had battered to death. Double executions ceased in 1954 and were outlawed by the 1957 Homicide Act, as it was felt that the extra time they took subjected the prisoners to greater emotional suffering.
Arthur Osborne's case was probably unique, in that he was hanged on his birthday. Osborne had been found guilty of the murder of 70 year old Ernest Westwood on 25th September 1948. He had stabbed Mr. Westwood and robbed him in his own home. After the murder, Osborne fled to Chichester in Sussex where he was going to marry Dorothy Ball. He was already married but his wife was in a mental hospital. At the end of his three day trial at Leeds Assizes, the jury recommended mercy, but the Home Secretary saw no justification for this and Osborne was duly hanged by Steve Wade and Harry Allen on his 28th birthday, the 30th of December 1948.  The last execution in the old facility on "A" Wing was that of 19 year old Walter Sharpe on the 30th of March 1950.  Sharpe had been convicted of the robbery/murder of jeweller, Abraham Harry Levine in November 1949.
The last person to be hanged at Armley was 31 year old Hungarian born, Zsiga Pankotia, on the 29th June 1961 by Harry Allen. Pankotia had stabbed to death a wealthy market stall holder called Eli Myers, while trying to rob him in his home.
Under the name of Her Majesty's Prison Leeds, Armley continues in service to this day.