<![if !vml]>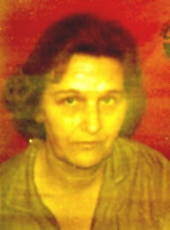 <![endif]>Velma Barfield made international headlines when she became the first woman to be executed in America since 1962 and first since the re-introduction of the death penalty in 1976. She was also the first woman to be executed by lethal injection.
She was put to death at on the 2nd of November 1984 at the Central Prison in Raleigh, North Carolina, a somewhat plump, 52 year old grandmother, who had murdered four people.
Velma was addicted to drugs, not the hard drugs like heroin or cocaine, but rather prescription drugs such as tranquilizers, sleeping pills, anti-depressants and barbiturates. Her addiction stemmed from a nervous breakdown and she had a history of overdosing and subsequent hospital treatment, with four admissions between 1972 and 1975.
Background.
She was born on the 23rd  October 1932 in North Carolina, the oldest girl and second of a large family of 9 children. She claimed her father beat and raped her and her sisters although this was disputed by other relatives. She dropped out of school and by nineteen had two children, a son, Ron and a daughter, Kim by her first husband, Thomas. To begin with, the marriage was happy and they seemed like a normal family unit. All began to deteriorate when Thomas suffered head injuries in a car crash in 1966 and became unable to work. Velma got a job in a store to make ends meet and support the family. Thomas rapidly become an alcoholic and Velma began to take anti-depressants and tranquilizers to get her through the daily stress of what had become a miserable life. Ultimately she had a breakdown and became addicted to the various drugs. Thomas died in 1969 in a house fire, which may not have been an accident and Velma re-married in 1970 to Jennings Barfield who was dead within 6 months - the cause - arsenic poisoning.
Her limited employment opportunities could not support her drug habit so she took to forging cheques and then killing the people she had defrauded.
The crimes.
By 1977 she was in a relationship with Stuart Taylor who was a widower and tobacco farmer. As usual, she forged checks on Taylor's account to pay for her addiction. Presumably, Taylor began to get suspicious. Fearing that she had been found out, she mixed an arsenic based rat poison into his beer and tea. Taylor became very ill and Velma volunteered to nurse him. As his condition worsened, she took him to the hospital where he died a few days later. Unfortunately for her, there was an autopsy which found that the cause of Taylor's death was arsenic poisoning and Velma was arrested and charged with his murder.
At the trial, her defense pleaded insanity but this was not accepted and she was convicted. The jury recommended the death sentence. Velma appeared cold and uncaring on the stand and actually gave the District Attorney a round of applause when he made his closing speech.
She subsequently confessed to the murders of her mother in 1974 (in whose name she had taken out a loan) and of two elderly people, John Henry Lee by whom she was being paid as a housekeeper/carer and Dollie Edwards through whom she met Stuart Taylor (he was related to Dollie). Velma always attended the funerals of her victims and appeared to grieve genuinely for them.
Her late husband, Thomas's body was later exhumed and also found to contain traces of arsenic but Velma denied that she had killed him.
Her motives for these four murders were the same. She had misappropriated money from her victims and then according to her, tried to make them ill so she could nurse them while finding another job to enable her to repay the money. Needless to say, the jury was less than impressed by this defense.
Death row.
On death row at Raleigh, Velma now off the drugs, expressed remorse for the years that the pills had blurred her judgment and destroyed her moral compass. However, she could not really explain why she had killed.
She became a "born again" Christian while awaiting trial and during the next 6 years that she spent on death row did a lot to help and counsel other female inmates. Appeals to save her dragged on through various courts and there were many representations on her behalf by religious leaders. Her final appeal was filed on October 30, 1984 in the North Carolina Supreme Court on the grounds that she was incompetent at her original trial by virtue of her drug addiction. This was rejected by the court. There had been many appeals on her behalf, the Supreme Court having rejected them on three occasions. The Governor of North Carolina, James B. Hunt, declined to grant clemency and was unimpressed by her religious conversion and good behavior on death row. (The same argument for commutation was trotted out in the case of Karla Faye Tucker in Texas in 1998)
It is claimed by some, that Hunt could not reprieve her without looking "soft" on crime during the run up to the state elections in 1984.
She began to accept her death and instructed her attorney, Jimmy Little, to drop all appeals the day before she was due to be executed saying that she wanted to "die with dignity."  She clearly had little fear of what lay ahead and is quoted as saying "When I go into that chamber at , it's my gateway to heaven."
Execution.
Under North Carolina law, she was allowed the choice of execution by lethal gas or lethal injection and, not surprisingly, she chose the latter. She could not face her last meal and asked a guard to get her Coca-Cola and Cheeze Doodles instead.
She dressed in her own pink pajamas for the execution and was made to wear a diaper. A stethoscope and heart monitor were taped to her chest. The wheeled gurney (see below) was taken to her cell and she was secured to it with straps over her body and legs. Catheters were inserted into her arms and a saline drip started before she was wheeled into the execution chamber a few minutes before
<![if !vml]>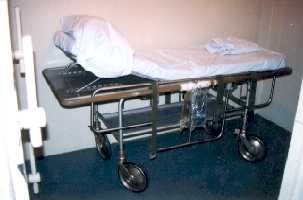 <![endif]>Three syringes were attached to each of the IV lines and these were operated by three volunteers. One of the IV lines was, in fact, a dummy so that none of the three volunteers could be sure if he had actually killed her or not.
She was pronounced dead at , the execution having gone without any hitches. At , her body was whisked away by a waiting ambulance, past the crowds of pro and anti capital punishment demonstrators who had assembled outside the prison. She had requested that her organs be used for transplant purposes. In fact this was not possible, as her heart had not been beating for 10 minutes and could not be restarted, although attempts were made to by the transplant team. Her corneas and some skin tissue were able to be used.
Conclusion.
So was Velma Barfield a monster and serial killer or just a poor demented soul whose brain was befuddled by drugs and who always needed more money to pay for them? My own answer is somewhere in between. As many before her she, no doubt, found that murder came quite easily once she had committed the first one and it offered a simple and permanent solution to the problem of being found out by those she was defrauding.
North Carolina had only executed two women previously, Rosanna Phillips in 1943 and Bessie May Smith (Williams) a year later, both by lethal gas. 4 women are currently on death row there.
Visit http://www.doc.state.nc.us/DOP/deathpenalty/executio.htm for more information on North Carolina executions.