Between 1924 and 1999, 589 men and seven women were put to death in the gas chambers of various American states. At its peak, 11 states had adopted this method, these being, Arizona, California, Colorado, Maryland, Missouri, Mississippi, New Mexico, North Carolina, Nevada, Oregon and Wyoming.  Eleven men have been gassed in five states since the resumption of executions in 1977, these being in Arizona (2), Nevada (1), North Carolina (2), California (2) and Mississippi (4). The last lethal gas execution was that of Walter Le Grand in Arizona in 1999 (see below).
Of the states with capital punishment, only Arizona, California, Missouri and Wyoming still, at least in theory, allow for the use of the gas chamber and all offer lethal injection as an optional method. The introduction of lethal gas executions ended the practice of hangings carried out by individual counties and execution facilities and death rows became concentrated at State Penitentiaries. Gassing has never been used by any other country as a means of judicial execution.
State by state analysis in chronological order of introduction.
State

First used

Last used

No of

Males

Females

No of chairs in chamber

Method replaced

mm/dd/yr

mm/dd/yr

executions

Nevada

02/08/1924

10/22/1979

32

32

0

1

Hanging

Colorado

06/22/1934

06/02/1967

32

32

0

Originally 3

Hanging

Arizona

07/06/1934

03/03/1999

37

37

0

Originally 2

Hanging

North Carolina

01/24/1936

01/20/1998

197

195

2

1

Electrocution

Wyoming

08/13/1937

12/10/1965

5

5

0

1

Hanging

California

12/02/1938

08/24/1994

196

192

4

2

Hanging

Missouri

03/04/1938

02/26/1965

39

38

1

2

Hanging

Oregon

06/20/1939

08/20/1962

18

18

0

1

Hanging

Mississippi

03/03/1955

06/21/1989

35

35

0

1

Electrocution

Maryland

06/29/1957

06/09/1961

4

4

0

1

Hanging

New Mexico

01/08/1960

01/08/1960

1

1

0

1

Electrocution

Total

596

589

7
Note.  Mississippi, North Carolina and New Mexico used both the gas chamber and the electric chair at different times.
Gassing was originally proposed by toxicologist Dr. Allen McLean Hamilton who suggested it as an execution method that would be more humane than hanging or shooting, which were the choices offered to condemned men in Nevada in the early part of the 20th century. Electrocution was seen as gruesome by the Nevada legislature and so the new method was adopted, coming into law in 1921 in that state. The original idea was to surprise the prisoner by gassing him in his cell as he slept without prior warning.  This proved impracticable and thus the gas chamber, as such, was designed by Major Delos A Turner, an army medical corps officer.
The first person to die in Nevada's new gas chamber was Chinese born Gee Jon, on February 8th, 1924, for the murder of Tom Quong Kee, a member of a rival gang. His lawyers had fought a long battle in the courts to show that gassing was "cruel and unusual punishment" and as such was illegal under the 8th Amendment to the American Constitution. This execution did not take place in a conventional gas chamber, but rather in an overly large room in a building in the prison grounds that had previously been the barber shop.  The gas was produced by vaporizing hydrocyanic acid using a mobile fumigating sprayer manufactured by the California Cyanide Company. Click here to see a photo of the room and sprayer. The execution commenced at 9.30 a.m. when Gee Jon was led from a holding cell and secured to one of the two rough wooden chairs within the room. In the cold February temperatures the hydrocyanic acid was reluctant to vaporize and so it took some time for the concentration of gas to reach a lethal level.  Jon appeared to struggle a little after the gas was pumped in and then lapse into unconsciousness, but as no external stethoscope had been provided, he was left in the chamber for 30 minutes to ensure death. The Nevada State Journal ran a banner headline the following morning, stating "Nevada Gas Death Law Held Success."  Later a conventional gas chamber was constructed.
Most of America's gas chambers were built by Eaton Metal Products in Denver, Colorado.  Their first was constructed in 1933 for Colorado and the last in 1955 for Maryland.  This cost $25,000 at the time.  Colorado replaced its 1933 chamber with a new one in 1955.  Gas chambers are of welded and riveted steel construction, including the floor.  There is an adjoining Chemical Room where the chemicals are mixed prior to use and a Control Room. Some chambers were built with a single chair as in Colorado, Mississippi, Oregon and Wyoming and some with two chairs as in Arizona, California and Missouri (the latter was not constructed by Eaton).  Both types were of otherwise similar pattern.  To prevent the cyanide gas condensing the execution area has to be kept heat to at least 80 degrees F and any electrical fittings, e.g. lights have to be explosion proof, as hydrogen cyanide gas is explosive. 
The gassing of Bony Brown Heady and Carl Hall on December 18th, 1953 was unique in that it was the only time that a man and a woman have been executed side by side by lethal gas.  The couple had abducted and murdered of six year old Bobby Greenlease in Kansas City.
Californian executions by lethal gas were carried out at San Quentin prison. The first gassings there took place at on Friday December 2nd, 1938 when Robert Lee Cannon and Albert Kessell were put to death simultaneously for the murder of prison warden Clarence Larkin, a guard and two other inmates during an uprising at Folsom prison. The cost to the state of this for the cyanide and acid was $1.80. The following Friday (12/9/1938) a further two inmates involved in this uprising were gassed, these being Wesley Eudy and Frederick Barnes.  A fifth defendant, Edward Davis was executed on December 16th.  Kessell seemed to die hard, it was reported that he "appeared to be trying to hold his breath. He was rigid and his hands gripped the arms of his chair as the gas hit him. He gasped: 'It's bad!'" Cannon seems to have died easier.  Several witnesses complained about the proximity to the dying men over a lengthy period and that they had no mask or blindfold to hide their sufferings.
Ethel Leta Juanita Spinelli became the first woman to be executed in California and the first woman to die in a gas chamber when she was put to death for murder on November 21st, 1941.
The San Quentin gas chamber was constructed in a basement room and is a pale green painted octagonal metal box, 6 feet across and 8 feet high. There is a 30 feet high chimney outside to take the gas away.  The entrance is through a rubber sealed steel door closed by a large locking wheel and there are windows in 5 of the sides for the witnesses to view the execution.
<![if !vml]>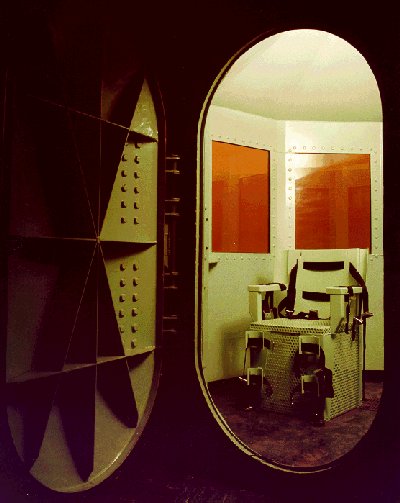 <![endif]>Inside the California chamber are two identical metal chairs with perforated seats, marked "A" and "B." (The twin chairs were last used in a double execution in 1962). Two guards strap the prisoner into chair A, attaching straps across his upper and lower legs, arms, thighs and chest. They affix a Bowles stethoscope to the person's chest so that a doctor on the outside can monitor the heartbeat and pronounce death. Beneath the chair is a bowl filled with sulphuric acid mixed with distilled water to give a concentration of approximately 37%, with a pound of sodium cyanide pellets suspended in a gauze bag just above. After the door is sealed, and when the warden gives the signal, the executioner in a separate room operates a lever that releases the cyanide into the liquid. This causes a chemical reaction that releases hydrogen cyanide gas, which rises through the holes in the chair.  (2 NaCn + H2SO4 = 2 HCN + Na2SO4).  When the reaction has finished the gas reaches a concentration of around 7,500 ppm.
Prisoners are advised to take deep breaths after the gas is released as this will considerably shorten their suffering. Easy for the Warden to say, no doubt, but much harder for the prisoner to intentionally inhale the gas designed to kill them even if they accept the logic of the advice they are given.
A typical witnesses view of gassing is as follows "At first there is evidence of extreme horror, pain, and suffocation. The eyes pop, the skin turns purple and the victim begins to drool".
In medical terms, victims of cyanide gas die from hypoxia, which means the cut off of oxygen to the brain. The initial result of this is spasms, as in an epileptic seizure. Because of the straps, however, involuntary body movements are restrained. Seconds after the prisoner first inhales, he/she will feel himself unable to breathe, but will not lose consciousness immediately. "The person is unquestionably experiencing pain and extreme anxiety," according to Dr. Richard Traystman of Johns Hopkins University. "The pain begins immediately and is felt in the arms, shoulders, back, and chest. The sensation is similar to the pain felt by a person during a heart attack, where essentially the heart is being deprived of oxygen." Traystman added: "We would not use asphyxiation, by cyanide gas or by any other substance, in our laboratory to kill animals that have been used in experiments."
A study of the execution records of 113 prisoners executed at San Quentin showed that the average time taken to kill them was 9.3 minutes. The prisoner will usually lose consciousness between one and three minutes after the gas hits their face and the doctor will pronounce them dead in around 10 to 12 minutes. An exhaust fan then sucks the gas out of the chamber. Next, the corpse is sprayed with ammonia, which neutralises traces of the cyanide that may remain. After about half an hour, staff enter the chamber, wearing gas masks and rubber gloves. Their training manual advises them to ruffle the victim's hair to release and trapped cyanide gas before removing him.
Missouri used the gas chamber from 1938 to 1965 and the procedure was described as under in a newspaper report in December 1953 relating how Bonnie Brown Heady and Carl Austin Hall would die. "According to medical authorities, the doomed pair will feel a slight burning sensation around the nose then in less than a minute they will be unconscious.  Actual death will follow in about ten minutes."  In fact it took 1 ¼ minutes for unconsciousness to set in and 9 minutes for them to die.  "After the lever releasing the cyanide is operated a puff of white vapour starts to rise. An involuntary stiffening occurs when the hydrogen cyanide gas hits the face and then in less than a minute the head falls forward – a signal of unconsciousness.  Muscles will alternately stiffen and relax, the head moving back and forth, (typical symptoms of asphyxia) Four minutes after unconsciousness, respiration usually stops and in another two to three minutes muscular action is halted. At this point they are unofficially pronounced dead."  Cause if death is given as cerebral anoxia – lack of oxygen to the brain. Hydrogen cyanide cuts off oxygen to the lower nerve centres.
Modern era (post Furman) lethal gas executions.
Five states carried out eleven executions by lethal gas after the resumption of the death penalty in 1977.  These being Arizona, California, Mississippi, Nevada and North Carolina.
Arizona (2 executions).
Arizona moved from hanging to the gas chamber at the State Penitentiary in Florence for the execution of brothers 19 year old Fred and 18 year old Manuel Hernandez at on July 6th 1934.  A further 33 men would follow them to this fate up to 1963 when Manuel Silva became the last pre Furman execution on March 14th of that year.  Arizona's next execution occurred some 29 years later when Donald Eugene Harding was gassed on April 6th, 1992. At , the sodium cyanide pellets dropped into the vat beneath Harding's chair containing 6 quarts of distilled water and 6 pints of sulphuric acid. Cameron Harper, a reporter for KTVK-TV said, "I watched Harding go into violent spasms for 57 seconds. Then he began to convulse less frequently. His back muscles rippled. The spasms grew less violent. I timed them as ending six minutes and 37 seconds after they began. His head went down in little jerking motions. Obviously, the man was suffering. This was a violent death, make no mistake about it."; Harper went on, "It was an ugly event. We put animals to death more humanely. This was not a clean and simple death". Another witness, Carla McClain, a reporter for the Tucson Citizen said, "Harding's death was extremely violent. He was in great pain. I heard him gasp and moan. I saw his body turn from red to purple." This execution prompted the introduction of lethal injection in late 1992, although prisoners sentenced before November 15th 1992 can still choose lethal gas.
On March 4th, 1999, Walter Le Grand was executed in Arizona's gas chamber at his request, apparently as a protest against the death penalty. (A week previously, his brother Karl had chosen lethal injection.) Le Grand took 18 minutes to die after his executioners dropped the cyanide pellets into the acid, enveloping him in a cloud of white, steam-like fumes.  According to reporters present, as the cyanide fumes rose, he let out a loud groan, coughed, shook his head and gagged for a minute before his head slumped forward.
California (2 executions).
On Tuesday, April 21st, 1992, 39 year old Robert Alton Harris was put to death in the gas chamber at San Quentin Prison in California's first execution for 25 years.
At , a prison official operated the lever, slowly lowering the pellets of cheesecloth wrapped sodium cyanide into the vat of sulphuric acid beneath the chair to create the lethal hydrocyanic gas. Harris took a number of deep breaths and for several minutes appeared to gasp and twitch convulsively. His head snapped back and then dropped as he strained against the straps. After a minute, his hands seemed to relax. His mouth was open and his face flushed and turning blue. Three minutes later there was a cough and a convulsion.
At 6.21 a.m. (eleven minutes after the start), Warden Daniel Vasquez declared Harris dead and announced the words Harris had chosen to be remembered by. Taken from the film "Bill and Ted's Excellent Adventure", they were: "You can be a king or a street sweeper. But everybody dances with the grim reaper."
David Edwin Mason became the last person to suffer death by lethal gas in California. He was executed in accordance with Procedure No. 762 at San Quentin on of August 24th, 1994 for the murders of four elderly women in 1980 and of a fellow inmate in 1982.  He chose this method as he felt he deserved to suffer for his crimes.  He was pronounced dead at , about 14 minutes after the cyanide pellets were dropped into the acid. 
The gas chamber has now been outlawed, unless he prisoner specifically requests it, after the American Civil Liberties Union took the California Department of Corrections to court in San Francisco in 1994 on behalf of 375 condemned inmates on San Quentin's death row, saying that the gas chamber violates the U.S. Constitution's ban against cruel and unusual punishment because it inflicts needless pain and suffering.
District Judge Marilyn Hall Patel ruled on October 5th, 1994 that the gas chamber is an inhumane method of punishment.
On February 21st, 1996, a three judge panel of the U.S. 9th Circuit Court of Appeals unanimously upheld the ruling that gas chamber executions in California violated the 8th Amendment to the Constitution because there was a risk that an inmate could suffer "horrible pain" for up to several minutes.
"The district court's findings of extreme pain, the length of time this extreme pain lasts, and the substantial risk that inmates will suffer this extreme pain for several minutes require the conclusion that execution by lethal gas is cruel and unusual," Judge Harry Pregerson wrote. "This decision is the death knell for the gas chamber in the United States," predicted Michael Laurence, an attorney who fought to stop the use of the gas chamber.
Mississippi (4 executions).
Mississippi's first execution after the death penalty was re-instated was that of Jimmy Lee Gray on September 2nd, 1983 at the State Prison at Parchman.
Eight minutes after the gas had been released, officials cleared the witnesses from the viewing area as Gray continued to convulse. He is reported to have gasped 11 times during this period and to have repeatedly banged his head against the steel pole behind the chair.
Edward Earl Johnson was the next to be gassed in Mississippi on May 20th, 1987.  Connie Ray Evans followed on July 8th, 1987 and finally Leo Edwards Jr. on June 21st, 1989. Evans was pronounced dead 17 minutes after the cyanide pellets were dropped into the acid and Edwards around 15 minutes.  Mississippi has since made lethal injection its sole method.
Nevada (1 execution).
The only person to die by lethal gas in Nevada was Jesse Bishop who was executed on October 22nd, 1979.  He took nine minutes to die and was described as "like an iceman" and "as tough as nails to the end" by prison director Charles Wolff. Lethal injection is now the sole method of execution in Nevada.
North Carolina (2 executions).
North Carolina's first modern era gas execution was carried out on June 16th, 1994 when David Lawson was put to death.  On of January 30th, 1998, Ricky Sanderson was executed by lethal gas at Central Prison in Raleigh, North Carolina, for stabbing a 16 year old girl to death in 1985. Having been on death row for nearly 13 years, 38 year old Sanderson waived his right to further appeals. His last words were, "I'm dying for a deed I did and I deserve death for it and I'm glad Christ forgave me." The execution commenced at 2.01 a.m. EST and he was pronounced dead at 2:19 a.m., 18 minutes later. He died in just a pair of white boxer shorts, which is standard procedure, according to prison officials. He was seated in a wooden chair and wearing a leather mask to hide facial contortions.  Lethal injection is now the sole method of execution in North Carolina.
Comment.
Arguably the cruellest modern method, execution by lethal gas requires considerable time for the preparations. The inmate is expected to contribute to his (or her) own death by actively inhaling the lethal fumes and typically takes several minutes to lapse into unconsciousness, generally showing signs of great suffering during this period.  It should be noted that none of the eleven modern era gassings described above could be in anyway said to have been botched.
The cruelty of gassing is well illustrated by the two films based upon the case of Barbara Graham who went to the San Quentin gas chamber on June 3rd, 1955. Lindsey Wagner played Barbara Graham in the later version of "I want to live" and gave a very moving performance. Her portrayal showed clearly the time it takes to prepare the prisoner, get them into the gas chamber and for them to pass into unconsciousness when the gas is finally released.
America's gas chambers are all getting very old having been mostly constructed in the 1930's. The window and door seals are prone to harden and are thus liable to leak, which could have fatal consequences to staff and witnesses. It was the practice, at least in some states to loosen the bolts on the window surrounds to prevent the seals hardening and then re-tighten them prior to an execution. 
It is estimated that to build a new gas chamber would cost at least $300,000 at year 2000 prices and this cannot be justified when set against the cost of the equipment required for lethal injection.
Wyoming has the old gas chamber from its Rawlins Prison on display and the public are invited to sit in it and even be strapped in and have the door closed on them!
Only time will tell whether the gas chamber will be used in the 21st century. It may, because there are still a number of prisoners on death row who have the legal right to insist upon being gassed (as Walter Le Grand did in 1999).
The only other users of lethal gas were the Nazis during World War II when they killed several million people using carbon monoxide or cyanide gas.
Back to Contents page For a full list of gas chamber executions 1924 -1967 Click here