<![if !vml]>

<![endif]>Judi (right) became the first woman to get the electric chair in America since Rhonda Belle Martin was executed in Alabama on the 11th of October 1957. She was the first woman to be executed in Florida since 1848, when a slave girl named Celia was hanged for battering her master to death.
Her execution on March 30, 1998 was a relatively low key affair, unlike those of the two women who had preceded her to the death chamber (Velma Barfield and Karla Faye Tucker).   She was not an especially attractive 54 year old and her execution was the third in a series of four that Florida carried out in quick succession that spring. It did not attract the media attention that Karla Faye Tucker's execution had.
Early Days.
Like so many of the other criminals discussed in these pages, she had had a difficult childhood.
She was born Judias Welty, in Quanah, Texas, on April 4, 1943, the daughter of a farm laborer. She was of Latina ethnic background. Apparently Judi described her mother as a member of a non-existent Mesquite Apache tribe although they were not close to each other. Her mother (also named Judias) died of tuberculosis when Judi was 4 years old, and the family were parted. Judi and her infant brother, Robert, were sent to live with their grandparents, while two older children were put up for adoption.
Her father remarried and took Judi and Robert to live with his new wife in Roswell, New Mexico.
Judi was miserable there and claimed that both her father and stepmother abused her.
Allegedly she was beaten, starved, forced to work long hours as a virtual slave - hardly an ideal upbringing for an adolescent girl. Her family eventually pushed her too far and at the age of 14 she was sentenced to two months in prison for attacking them and her two stepbrothers. After she was released, she chose to go to a reform school rather than back to her abusive family and went to the Foothills High School in Albuquerque from where she graduated in 1959 at 16.  She had, not surprisingly, a poor view of her family and is reported to have said of her brother Robert "I wouldn't spit down his throat if his guts were on fire".
Her first job came in 1960 when she was employed as a nursing assistant in Roswell under the assumed name of Anna Schultz. In 1961, she gave birth to an illegitimate son whom she christened Michael Schultz. She refused to confirm rumors that his father was a pilot from the nearby USAF base.
A life of crime.
She married for the first time on January 21, 1962, to James Goodyear who was an air force officer and Judi gave birth to their first child, James, Jr., on January 16, 1966. James Goodyear adopted Michael. In 1967 they had a daughter, Kimberley, and were now living in Orlando, Florida. 1968 saw Judi open her first business - the Conway Acres Child Care Center in Orlando with the financial backing of her husband.
James Goodyear, Sr. had done a tour of duty in Vietnam and three months after his return home, was admitted to the U.S. Naval Hospital in Orlando suffering from mysterious symptoms. He died on September 15, 1971 and Judi cashed in his three life insurance policies. Towards the end of that same year, Judi suffered a house fire at her home for which she received a further $90,000 from the insurers.
Judi soon found a new boyfriend in the shape of Bobby Joe Morris who lived in Pensacola and with whom she moved in with in 1972. Her new life was marred by her son Michael who was disruptive at school and of low intelligence. She was able to get him into residential foster care for a time. Bobby Morris moved to Trinidad, Colorado, in 1977 and Judi and her family (including Michael) joined him there a little later. Before she left Pensacola, however, she was the victim of another house fire which brought another insurance pay out. Soon after she moved to Colorado, Bobby Joe became ill and was admitted to hospital on January 4, 1978. Again, the cause was a mystery to his doctors and he was soon discharged. Two days after he went home he collapsed and was taken back to the hospital where he died on January 21st of that year. Once again, Judi benefited from the insurance policies taken out on his life.
His family, however, suspected that Bobby Joe had been murdered and that he was not the only victim. In 1974, Judi and Bobby Joe had been visiting Bobby Joe's hometown of Brewton in Alabama, where a man from Florida had been found dead in a motel room. The local police received an anonymous phone call, traced to a local pay phone which led them to the motel room where the dead body of a man was found who had been shot in the chest and had his throat cut.
It is claimed that Bobby Joe's mother overheard Judi telling "The son of a bitch shouldn't have come up here in the first place. He knew if he came up here he was gonna die". Bobby Joe confessed to his part in this killing on his deathbed. However, at the time, the police could find no fingerprints inside the room and no bullet was recovered from the corpse so they did not have enough evidence to bring charges. On May 3, 1978, Judi legally changed her surname and that of her children to Buenoano, the Spanish equivalent of Goodyear, in an apparent tribute to her late husband. She and her family moved back to Pensacola.
Michael Buenoano, as he had now become, had done badly at school and joined the army in June 1979. He was based in Georgia. He soon started to show signs of illness and was diagnosed as suffering from arsenic poisoning which rapidly affected his upper and lower limbs. He was given heavy metal leg braces in the military hospital and on discharge, into the care of his mother, unable to walk or use his hands. On May 13, 1980, Judi took Michael and his younger brother, James, canoeing on the East River. Sadly, the canoe capsized. James and Judi were able to get out from under the upturned canoe but Michael, weighed down by the heavy braces, didn't stand a chance and drowned. The police accepted Judi's account of what happened but the army investigators were not so easily taken in. Judi received $20,000 from Michael's military life insurance but the sheriff's officers began taking interest in the case when it was discovered that there were also two other policies on Michael's life. It was suggested by handwriting experts that Michael's signature on the insurance applications may have been forged. After Michael's death, Judi opened a beauty salon in Gulf Breeze and also began seeing a Pensacola businessman named John Gentry II. She told John Gentry that she had various (bogus) qualifications and had worked as a senior nurse in Florida. She persuaded him that they should take out life insurance policies on each other in October 1982 and later increased the size of the one on him to $500,000. She also persuaded him to take vitamin capsules which made him feel nauseous and dizzy. When he complained of these effects, Judi allegedly told him to double the dose!
On June 25, 1983, Judi announced she was pregnant and John went out to get some champagne to celebrate. When he started his car, a bomb exploded and he was seriously injured as a result. Four days later he was well enough to answer questions from the police which led them to examine Judi's background in minute detail. Many inconsistencies between what John thought was the case and what the police found to be reality emerged. Judi had no medical qualifications, she was not pregnant and had booked a cruise for herself and her children. She had also recently been telling her friends that John had a terminal illness. Several of the alleged vitamin capsules were recovered and found to contain the arsenic. At this stage, however, there wasn't sufficient evidence to charge Judi with attempted murder. A later search of Judi's house revealed wire and tape in her bedroom which matched the remains from the bomb in John's car. Later the police also traced the source of the dynamite and were able to link Judi through telephone records. She was duly arrested and bailed on the charge of attempted murder of John Gentry. On January 11, 1984, she was arrested again and charged with first degree murder in respect of Michael's death.
In February, the body of Bobby Joe Morris was exhumed and arsenic found. It was also found in the body of James Goodyear who was exhumed in March of that year.
<![if !vml]>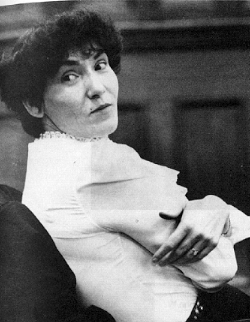 <![endif]>Judi was tried separately for each murder and for the attempted murder. She was sentenced to life imprisonment without parole for the first 25 years on June 6, 1984 for Michael's murder. Surprisingly, she was acquitted of the charge of attempted murder but she was found guilty of first degree murder in the case of her first husband, James Goodyear. The jury deliberated for 10 1/2 hours and for this she was sentenced to death by electrocution on the 26th of November, 1985. Colorado prosecutors decided not to continue with the case against her over the murder of Bobby Joe Morris as she was already under sentence of death in Florida.
It is estimated that she collected around $240,000 in insurance money from the deaths of her husband, son and boyfriend in Colorado.
Judi pictured at her trial
On death row.
Condemned female inmates are housed at the Broward Correctional Center at Pembroke Pines in Florida where Judi was to spend the next 13 years. She continued to appeal and had three death warrants handed down over the years. She spent her time confined to 6 x 9 x 9.5 feet high cell. Death row inmates are served meals three times a day: at , from to and from to Food is prepared by prison personnel and is transported in insulated carts to the cells. Inmates are allowed plates and spoons to eat their meals. Visitors are allowed every weekend from to
Inmates may receive mail every day except holidays and weekends. They may have cigarettes, snacks, radios and black and white televisions in their cells. They do not have cable television or air-conditioning and they are not allowed to associate with each other. They can watch church services on closed circuit television. While on death watch, (after a death warrant has been signed), inmates may have radios and black and white televisions positioned outside their cell bars.
Death row inmates wear orange t-shirts and blue colored pants (as worn by regular inmates). They are counted at least once an hour and are escorted in handcuffs to the exercise yard and the shower. They are confined to their cells at all other times, except for medical reasons, exercise, social or legal visits or media interviews.
It is a fairly harsh regime for long term incarceration.
Judi spent the 13 years writing letters and crocheting blankets and baby clothes and also taught Bible study to other inmates. A former death row inmate, Deirdre Hunt, claimed that "Judy was like a mother to me."
Execution.
All executions in Florida are carried out at the State Penitentiary at Starke and prior to 2000 all were carried out by electrocution in the state's 75 year old electric chair. A total of 240 men and one woman have been put to death in the three legged chair which was built by inmates in 1923. (It was rebuilt in 1999 for the execution of Allen Lee "Tiny" Davis who was considered to be too heavy for the old chair.)
Judi's last appeal was turned down on March 29, 1998 (see Appendix) and the then state Governor Lawton Chiles duly signed her death warrant. She was transferred to Starke and confined to a 12-by-7 foot cell where she passed her time watching a small black and white television through the bars in the death watch area adjacent to the execution room.
Judi spent her final hours seeing her adult children, Kim Hawkins and James Goodyear, other relatives and her legal and religious advisers. Jeanne Eaton, a cousin who visited before the execution, was quoted as saying afterwards "She had no fear at all, she's mostly afraid of leaving her children and how upset they were." In a television interview a few days before the execution, Judi said "I would like to clear the record for my grandson, I would like for him to know that his grandmother was not a murderer."
Execution was set for on Monday, March 30, 1998. At , she showered and dressed, probably by female corrections officers, and had her head shaved to give good electrical conductivity so that her hair did not catch fire during the electrocution. Her final meal consisted of broccoli, asparagus, strawberries and hot tea.
<![if !vml]>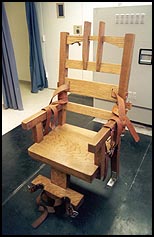 <![endif]>Judi entered the execution chamber at accompanied by several guards. She was strapped into the large oak chair (see right) with eight leather straps over her waist, wrists, chest and legs. The calf and head piece electrodes were fitted, each containing moistened sponge to reduce burning of the flesh.
Asked if she had a final statement, she replied "No sir," squeezing her eyes shut and keeping them shut, not looking at the witnesses on the other side of a glass partition. A leather mask was placed over her face and at the signal from the warden, the automatic electrocution cycle commenced at A small amount of white smoke (or steam?) was seen to curl up from her right leg throughout the 38 second cycle but there were no flames. She was pronounced dead at
In an interview afterwards, prison spokesman Gene Morris said. "She was very solemn. This is the first time I've seen that expression on her," he said. "She stared straight ahead, made no visible expression."
Judi's was the third of a series of four executions carried out in Florida over the period 03/23/98 to 03/31/98. The identity of the executioner is a well kept secret.
The execution protocol is as follows : - The automatic cycle begins with a nominal 2,300 volts, 9.5 amps, for 8 seconds; 1,000 volts, 4 amps for 22 seconds; and 2,300 volts, 9.5 amps for 8 seconds (actual values below). When the cycle is complete, the equipment is manually disconnected and the safety switch is then opened. In Judi's case, the cycles of electricity were officially recorded as follows :
| | | | |
| --- | --- | --- | --- |
| Cycle | Volts | Amps | Ohms |
| 1 | 2000 | 9.4 | 212.8 |
| 2 | 650 | 2.9 | 224.1 |
| 3 | 1,900 | 9.4 | 202.1 |
Conclusion.
Judy was dubbed the "Black Widow" at her trial by Pensacola prosecutor Russell Edgar and the name was ceased upon by the media. Edgar described her as a scheming, cold-blooded killer. "She's like a black widow - she feeds off her mates and her young. It does appear the motive was twisted greed," he said.
Like so many of the other cases examined on these pages, Judi had a hard and difficult upbringing. One wonders how this affected her personality. Did her own low self-worth lead her to the view that the lives of others were also of little value while her hatred of childhood poverty made her resolve never to be poor herself? It would seem that the motive for the arsons and the murders was principally for financial gain as Russell Edgar said and that she had a shallow relationship with her husband and boyfriends.
Did she think, as so many have done before her, that she would somehow get away with murder. She very nearly did - had she not tried to kill John Gentry she may well have done. According to Ted Chamberlin, the Pensacola detective who painstakingly examined her past and discovered her trail of insurance scams and death. "Judy just went one murder too far. If she'd just let that last boyfriend alone, she probably could have walked away from the other murders." He described her as " the coldest killer I ever knew."
It seems that once a person has committed the first murder, each successive crime is easier and when the perpetrator can just walk away from it without too many awkward questions (as she had done), - why not do it again when it so profitable?
It is probable also that she never thought that she would actually one day sit in the electric chair. Hardly any of the women who committed murder in the US have been sentenced to death and virtually none executed even if the occasional jury had voted for death. No woman had been executed in Florida in her lifetime and only two others in the country as a whole, so the potential of the death penalty was unlikely to have been much of a deterrent to her.
Appendix.
United States Court of Appeals,
Eleventh Circuit.
No. 98-1104.
In Re: Judy A. BUENOANO, Petitioner.
March 29, 1998
Application for Leave to File Second or Successive Petition for Writ of Habeas Corpus.
Before TJOFLAT, COX and CARNES, Circuit Judges.
PER CURIAM:
Judy Buenoano is scheduled to be executed on the morning of March 30, 1998 for the arsenic poisoning murder of her husband James Goodyear in 1971. We have previously affirmed the denial of her first federal habeas petition. See Buenoano v. Singletary, 963 F.2d 1433 (11th Cir.1992), on return from remand, Buenoano v. Singletary, 74 F.3d 1078 (11th Cir.1996). The procedural history of the case through that stage is contained in our two prior opinions. The procedural history of the case since our last opinion was issued is contained in the Florida Supreme Court's latest opinion in the case, Buenoano v. State, --- So.2d ---- (Fla. Mar. 26, 1998), which affirmed the state trial court's denial of Buenoano's third state post-conviction motion and her request for stay of execution.
Buenoano has now filed a motion pursuant to 28 U.S.C. § 2244(b) seeking an order authorizing her to file and the district court to consider a second federal habeas corpus petition attacking the state court judgment pursuant to which she is to be executed. She seeks to raise two claims in that second petition: 1) the State withheld critical exculpatory evidence of guilt or presented false or misleading evidence in violation of Brady v. Maryland, 373 U.S. 83, 83 S.Ct. 1194, 10 L.Ed.2d 215 (1963), and Giglio v. United States, 405 U.S. 150, 92 S.Ct. 763, 31 L.Ed.2d 104 (1972); and 2) she was denied her right to a fair and impartial jury because one of the jurors failed to disclose during jury selection that he had been convicted of involuntary manslaughter. Buenoano raised both of these claims in her third state post-conviction proceeding, and the Florida Supreme Court's comprehensive opinion affirming the denial of relief in that proceeding accurately sets out the facts relating to each of the claims. See Buenoano, --- So.2d at ----.
The showing Buenoano must make before she is entitled to file a second federal habeas petition, since her claims are not based on a retroactively applicable new rule of constitutional law, is prescribed in 28 U.S.C. § 2244(b)(2)(B). Under § 2244(b)(2)(B)(i), Buenoano is required to show that the factual predicate of her claim could not have been discovered previously through the exercise of reasonable diligence. Under § 2244(b)(2)(B)(ii), she is also required to show that "the facts underlying the claim, if proven and viewed in light of the evidence as a whole, would be sufficient to establish by clear and convincing evidence that, but for constitutional error, no reasonable factfinder would have found [her] guilty of the underlying offense."
As to the Brady and Giglio claim, even assuming that Buenoano has met the first requirement of § 2244(b)(2)(B), she has failed to meet the second one. Her new evidence relates to Special Agent Roger Martz's credibility. He did not even testify against her in the trial that resulted in her death sentence, which was imposed for the murder of James Goodyear. His laboratory examination of capsules Buenoano had given to John Gentry, a man with whom she was living in 1982, did lead to a stipulation at the trial that those capsules contained poison. The most Buenoano could hope to achieve with her new evidence about Special Agent Martz is erasure of that stipulation. However, even erasing that stipulation entirely, the evidence that Buenoano murdered James Goodyear in 1971, the only crime for which she was sentenced to death, is still quite strong.
It was essentially undisputed that John Goodyear, Buenoano's husband, died as a result of acute arsenic poisoning. See Buenoano v. Singletary, 74 F.3d at 1080. Special Agent Martz had nothing to do with that determination. Despite the fact that Goodyear was obviously seriously ill and even hallucinating, Buenoano hesitated to take him to the hospital. See id. Furthermore, as we have previously summarized:
Two of Buenoano's acquaintances, Constance Lang and Mary Beverly Owens, testified that Buenoano discussed with each of them on separate occasions the subject of killing a person by adding arsenic to his food. Lang testified that Buenoano had joked on several occasions about lacing her husband's food with arsenic. Owens testified that after hearing an upsetting phone call between Owens and her husband, Buenoano suggested that Owens take out more life insurance and then poison him with arsenic. Following Goodyear's death, Buenoano collected $33,000 in life insurance proceeds and $62,000 in indemnity compensation from the Veterans Administration. Owens and another acquaintance, Lodell Morris, both testified that Buenoano admitted killing Goodyear.
Id. at 1080-81. There was more evidence:
After Goodyear's death, Buenoano lived with Bobby Joe Morris, who became ill and died after exhibiting the same symptoms that Goodyear had exhibited. When Morris's remains were exhumed in 1984, the tissue analysis revealed acute arsenic poisoning. Buenoano collected approximately $23,000 in life insurance proceeds following Morris's death.
Id. at 1081. None of that evidence involved, either directly or indirectly, Special Agent Martz.
Accordingly, even if there is some constitutional error (which is by no means clear) connected with the new evidence relating to the stipulation about the capsules Buenoano gave to John Gentry, Buenoano clearly has failed to meet her § 2244(b)(2)(B)(ii) burden of showing that but for that error "no reasonable factfinder would have found [her] guilty of the underlying offense."
Buenoano's claim concerning one of the jurors at her trial failing to disclose that he had been convicted of involuntary manslaughter is not based upon a new rule of constitutional law that the Supreme Court has made retroactively applicable to her case, so the § 2244(b)(2)(A) exception to the bar against second habeas petitions does not apply. The § 2244(b)(2)(B) exception is also inapplicable because, even if the facts she alleges concerning the juror were proven, that would not establish by clear and convincing evidence that, but for any related constitutional error, no reasonable factfinder would have found her guilty of the underlying offense.
The application for an order authorizing the filing of a second federal habeas petition is DENIED.
Buenoano's request for a stay of execution is denied. The panel will not entertain a petition for rehearing.
APPLICATION DENIED; STAY DENIED.
Back to contents page American female executions 1900 - 2008