Shepton Mallet prison in Somerset.
<![if !vml]>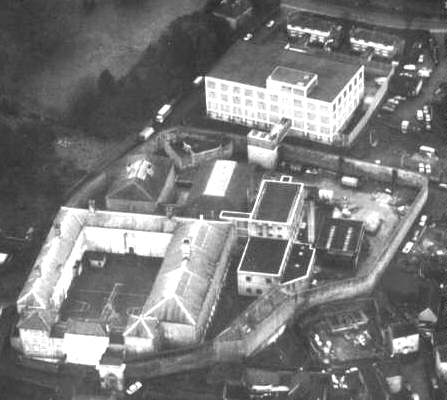 <![endif]>Shepton Mallet prison was built in 1610 and is the country's oldest jail. It is a grim stone structure and is still operational. It housed French prisoners of war during the Napoleonic Wars and during World War II, Cell 10 was used to protect some of the nations treasures including the Doomsday Book, a copy of the Magna Carta and the logs of Nelson's Flagship, HMS Victory.
It was the place of execution for the county of Somerset from 1889, having taken over from Taunton, and civilian executions took place there up to 1926. These were :
Samuel Rylands who suffered on the 13th March 1889 for the murder of a little girl, the first to be hanged here.
A little over two years later, on the 15th December 1891 Henry Dainton was hanged for the murder of his wife at Bath.
Charles Squires was executed on the 10th of August 1893 for killing a child.
A further four men hanged there in the years 1914 - 1926. The first of these executions was that of Henry Quarterly on Tuesday the 10th of November 1914 for shooting dead his neighbour, Henry Pugsley. Thomas Pierrepoint officiated at his hanging. Verney Asser followed Quarterly to the gallows on Tuesday the 5th of March 1918. Asser was an Australian soldier stationed at Sutton Veney during World War I, who had shot a fellow soldier, Acting Corporal Joseph Durkin. He was tried at Devizes in Wiltshire in January 1918 and subsequently hanged by John Ellis, assisted by William Willis.
Robert Baxter hanged William Bignall on the morning of Tuesday the 24th of February 1925 for the murder of his girlfriend Margaret Legg.
On Tuesday the 2nd of March 1926 the last civilian execution took place at Shepton Mallet when Tom Pierrepoint hanged John Lincoln for the murder of Edward Richards at Trowbridge in Wiltshire.
Shepton Mallet as an American Military prison during World War II.
<![if !vml]>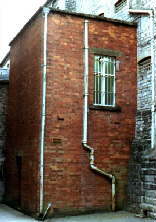 <![endif]>During World War II part of the prison was taken over by the American government for use as a military prison and as the place of execution for American servicemen convicted under the provisions of the Visiting Forces Act (1942) which allowed for American Military justice to be enacted on British soil. To enable these executions to take place a new brick built extension was added to one of the prison's wings. The two story red brick structure looks totally out of place against the weathered stone walls of the original building. A new British style gallows was installed on the first floor of the building and two cells within the main building converted into a condemned cell.
18 military executions were carried out at Shepton Mallet, representing 17% of the 96 executions of American servicemen serving in the European and North African Theatres of Operations (ETO). (Figures of 19 and even 21 executions in the UK have been given in some accounts but are definitely not correct.) Of these 18 men, nine were convicted of murder, six of rape and three of both crimes. Their racial mix was : ten African American, three Latino and five white - their average age was 21.5 years. 17 were Privates and one was a Corporal. None ranked higher than this.
Much has been made of the ethnic background of these men but very little of what they were convicted of. Also much is made of the alleged poor quality of the trials that these men received. In at least two cases, men had their death sentences commuted. (Thomas Bell who had been convicted of rape and George Fowler see below).
Bear in mind that a conviction for murder in Britain at this time carried a mandatory death sentence and that it was not unusual for civilian murder trials to only take a day or two. Rape did not carry the death penalty in British law but did in US Military law. Execution by shooting was not permitted for murder in Britain but was under US Military law. Rape was punishable by death in most of the southern states of America and in fact the last execution for rape in the USA took place in May 1964 when Ronald Wolfe was gassed in Missouri. Just over 300 rape executions (where the victim lived) were carried out between 1941 and 1964.
Here is a brief account of each case :
Pte. David Cobb, a 22 year old black G.I. was the first to be hanged, on 12th March, 1943. Cobb, from Dothan, Alabama, was stationed at Desborough Camp in Northamptonshire and had been on guard duty for some time during Sunday the 27th of December, when he was reprimanded by 2nd Lieutenant Robert J. Cobner. He protested and Cobner ordered the sergeant of the guard to arrest Cobb. Cobb threatened the man, who backed off so Cobner unwisely decided to attempt the arrest himself. Cobb fired his rifle at Cobner fatally injuring him. He was tried by US court martial at Cambridge on the 6th of January 1943. His trial occupying less than one day. His death sentence was confirmed in due course and reviewed by the authorities before he was executed by Thomas and Albert Pierrepoint within the new execution facility at Shepton Mallet.
Pte. Harold Smith a a 20 year old from LaGrange, Georgia had gone AWOL (absent without leave) in London in January 1943 and with another young soldier was staying in a hotel enjoying the town until their financial recourses dried up. He then returned to Chisledon Camp near Swindon to find his own unit had been posted elsewhere. He found a loaded pistol and then got into an altercation with Pte. Harry Jenkins whom he shot dead. He also fired at another soldier before escaping back to London, where he was arrested by a British policeman. He was handed over to American authorities and was court-martialled at Bristol on the 12th of March 1943. He made a full statement admitting his guilt and was duly hanged on the 25th of June, 1943 by Thomas and Albert Pierrepoint.
20 year old Lee A. Davis was another young black G.I. who was convicted of murder during the war. The killing took place near Marlborough in Wiltshire, as two young women walked back from the cinema. Davis asked the girls what they were doing and the one, Muriel Fawden, said she was returning to the hospital where she worked as a nurse. They tried to get away from Davis who shouted after them "Stand still, or I'll shoot". He instructed the terrified girls to go into some bushes beside the footpath. Muriel's companion Cynthia Lay decided to make a run for it and Davis shot her dead. He now forced Muriel into some bushes and raped her but surprisingly did not kill her. She was able to give a full statement to the police and as a result all the rifles of the American soldiers stationed nearby were examined. Davis' was found to have been fired and forensic tests matched the shell cases found near Cynthia to it. Davis admitted he had been at the scene of the crime but said he had only meant to fire over the heads of the girls. He was court-martialled at Marlborough on the 6th of October for the murder and the rape, both crimes carrying the death penalty under US Military law. He was hanged on the 14th of December, 1943 by Thomas Pierrepoint, assisted by Alex Riley.
John Waters from Perth Amboy in New Jersey was, at 39, rather older than the rest of these soldiers. He had been seeing a local woman, 35 year old Doris Staples, in Henley on Thames where he was stationed. There relationship was deteriorating and on the 14th of July 1943 he went to the drapers shop where she worked and shot her five times. The police arrived while Waters was still on the premises and a short siege began which was ended when the police threw a teargas canister into the shop and broke down the door. Seeing that he was cornered, Waters shot himself, but did not make a very good job of it. In due course he came to trial at Watford, Herts. (on the 29th of November 1943) and was convicted and sentenced to death for Doris' killing. He was hanged on the 10th of February 1944 by Tom Pierrepoint, assisted by Alex Riley.
J.C. Leatherberry, a 22 year old from Hazelhurst, Mississippi, was executed for the murder of Colchester taxi driver Henry Hailstone on the evening of 5th of December 1943. Hailstone's taxi was found abandoned and parked facing the wrong way which the police thought unusual and made them wonder if it had been parked by a foreigner who drove on the other side of the road. In the car was a blood stained jacket with Hailstone's driving licence in the pocket. When the area round the car was searched a blood stained overcoat was found with a name tag inside of Captain Walker. When he was interviewed he told police that the coat had been stolen, along with his Rolex watch, by a black soldier on the day of the murder. However a gas mask had been left during the robbery and this bore the identifier of J. Hill. Hill was traced and said he had lent the gas mask to fellow soldier George Fowler. Fowler was arrested and when his belongings were searched a pawn ticket was found for the missing Rolex. Fowler also admitted that he and Leatherberry had been involved in the murder. Their motive appeared to be to steal the car. Fowler maintained that it was Leatherberry who had strangled the driver. Both were convicted at their court martial at Ipswich on the 19th of January 1944 and both received the death sentence. However Fowler's was commuted as the court accepted that Leatherberry was the principal and because he had given evidence. Fowler was returned to military prison in the USA to serve his life sentence while Leatherberry was sent to Shepton Mallet to be hanged by Thomas and Albert Pierrepoint on the 16th of March 1944.
25 year old Pte. Wiley Harris Jr. from Greenville, Georgia, was another black soldier who was stationed in Belfast in Northern Ireland. He had gone out with his friend Pte. Robert Fils to a bar for the evening where they met a pimp called Harry Coogan who offered them the services of a young woman. These Harris accepted and he and the girl went to a nearby air raid shelter to have sex with Coogan keeping watch outside as this sort of activity was illegal. As they were getting started Coogan shouted to them that the police were approaching. Harris and the girl got dressed and emerged from the shelter to find that there were no police and Harris then demanded his money back. A struggle ensued between Harris and Coogan in which Coogan punched Harris. This caused the fight to escalate to the point where Harris stabbed Coogan 17 times. The court martial were not prepared to accept self defence in view of the number of stab wounds and so Harris was convicted. He was hanged by Thomas Pierrepoint, assisted by Alex Riley, on the 26th of May 1944.
20 year old Alex F. Miranda from Santa Ana, California, became the first American serviceman to suffer death by musketry as the US Army called shooting by firing squad, at Shepton Mallet. He had been convicted of Violation of the 92nd Article of War (murder) and was executed by an eight man firing squad in the prison grounds on Tuesday the 30th of May 1944 for the murder of his sergeant, Sgt. Thomas Evison at Broomhill Camp in Devon. Miranda had gone out drinking and had been behaving badly so was arrested by the civilian police and taken back to the camp. Here he became aggressive and the object of his aggression was Sgt. Evison who was reportedly asleep at the time. Getting no response from the sleeping man he shot him dead. The location of Miranda's court martial is unknown as is the reason why he was sentenced to be shot rather than hanged, bearing in mind that both David Cobb and Harold Smith had also killed other US soldiers. Hanging was the preferred method by the US Military as it was considered a more ignominious death than shooting.
25 year old Eliga Brinson from Tallahassee Florida and 22 year old Willie Smith from Birmingham Alabama, were hanged by Thomas Pierrepoint on the 11th of August 1944 for the rape of 16 year old Dorothy Holmes after a dance at Bishop's Cleeve in Gloucestershire. Dorothy left the dance with her boyfriend when they were ambushed by Brinson and Smith who assaulted them and when the boyfriend ran to get help both raped Dorothy. They were caught through the boot prints they left in the field where the rape took place. They came to trial at Cheltenham on the 28th of April 1944, their case taking two days to complete.
Madison Thomas, a 23 year old from Arnaudville, Louisiana, was another black soldier convicted of rape. His victim was Beatrice Reynolds, who was returning home after helping out at the British Legion hall at Gunnislake in Cornwall on the evening of July 26th 1944. Thomas accosted her on her way home and she tried to get rid of him by talking to her friend Jean Blight but without success. He hit her and pulled her into a field where he raped her and robbed her of her watch. Thomas had also spoken to Jean Blight and she was able to positively identify him the next day when the entire camp at Whitchurch Down near Tavistock was put on parade. Blood on Thomas's trousers was shown to be of the same group as Beatrice's. He was court martialled at Plymouth on the 21st of August and hanged by Thomas and Albert Pierrepoint on the 12th of October 1944.
35 year old Benjamin Pyegate from Dillon, South Carolina, was the second and last US soldier to face a firing squad at Shepton Mallet. The crime took place at Tidworth Barracks in Wiltshire on the 15th of July 1944.
Pygate became involved in an argument with three fellow soldiers in his hut and kicked James Alexander in the groin prior to stabbing him to death. On the 28th of November 1944 he was duly executed by firing squad, or musketry. He was led out and tied to a post. A black hood was placed over his head and a four inch diameter white target placed over his heart. 15 yards away eight soldiers stood with their rifles, one of which contained a blank round. The officer in charge of the execution gave the regulation commands as detailed in the US Army Manual. These being : "At the command READY, the execution party (firing squad) will take that position and unlock rifles. At the command AIM, the execution party will take that position with rifles aimed at target on the prisoner's body. At the command FIRE, the execution party will fire simultaneously."
The medical officer then examined the prisoner and, if necessary could direct that a "coup de grace" be administered. The sergeant of the execution party was responsible for administering this with "a hand weapon, holding the muzzle just above the ear and one foot from the head." It is not known whether it was required in Pyegate's case.
24 year old Ernest Lee Clark from Clifton Forge, Virginia and Augustine M. Guerra aged 20 from Cibolo, Texas (both white) were jointly convicted of the rape and murder of 15 year old Elizabeth Green at Ashford Kent on 22nd of August 1944.
Clark and Guerra had been drinking in a pub in Ashford and left at closing time to walk back to their barracks. On the way they encountered Elizabeth whom they raped and strangled. Hair and fibre samples taken from the scene matched those found on Clarke and Guerra and faced with this evidence they confessed to the rape but claimed that they had not intended to kill Elizabeth. They were tried on the 22nd of September 1944 at Ashford and hanged side by side on the 8th of January 1945, by Thomas and Albert Pierrepoint.
Robert L. Pearson, a 21 year old from Mayflower, Arkansas and 24 year old Parson (also given as Cubia) Jones from Thompson, Georgia (both coloured) were convicted by court martial of the rape of Joyce Brown at Chard in Somerset on the 3rd of December 1944. Joyce was heavily pregnant at the time of her rape and this must have been obvious to her assailants. Joyce was dragged into an orchard where both men raped her. After the rape was reported the clothes of all the men on the base were searched and Pearson and Jones' were found to be muddy. They both admitted to having sex with Joyce but claimed that she consented. Her pregnancy, bruising and her statement to the police told a different story. They were tried at Chard on the 16th of December 1944 and hanged side by side on the 17th of March 1945 by Thomas Pierrepoint, assisted by Herbert Morris.
22 year old William Harrison Jr. from Ironton, Ohio sexually assaulted and strangled seven year old Patricia Wylie in Killycolpy Co. Tyrone, Northern Ireland. Patricia was the daughter of a couple who had shown friendship to him. On the pretext of buying them a thank you present he took Patricia shopping with him on the afternoon of September the 26th 1944. His trial took place on the 18th of November 1944 and he was hanged on the 7th of April 1945 by Thomas Pierrepoint, assisted by Herbert Morris.
George E. Smith Jr. aged 28 from Pittsburgh, Pennsylvania, had gone hunting on private property (Honingham Hall in Norfolk) with fellow soldier Leonard Wojtacha, both armed with service carbines. They were challenged by the owner, Sir Eric Teichman and in the course of this confrontation Smith shot Sir Eric once through the head, killing him. The court martial took place at Attlebridge in Norfolk, commencing on the 8th of January 1945, and lasting five days due to the repeated hospitalisation of Smith. He had made a confession when he was arrested but claimed it had been made under duress and withdrew it at his trial. He was convicted and hanged on 8th May, 1945 (V.E. Day) despite requests for clemency, including one from Lady Teichman.  Thomas Pierrepoint, assisted by Herbert Morris, carried out the execution.
Aniceto Martinez, a 23 year old Mexican American soldier from Vallecitos New Mexico was working as a guard at a prisoner of war camp at near Rugeley in Staffordshire. On the night of August the 6th 1945 he broke into the house of 75 year old Agnes Cope in Rugeley where he raped her. She survived to tell the police of her ordeal and the prisoner of war camp became the focus of their enquiries. Only Martinez had been out of the camp the previous night and when questioned he confessed to the rape. Fibre samples taken from his clothing and matching those in Agnes' house matched adding forensic evidence to the confession. Martinez was tried at Lichfield in Staffordshire on the 21st of February 1945 and became the last person to be hanged for rape in the U.K. when he went to the gallows on the 15th of June of that year.  Thomas Pierrepoint, assisted by his nephew Albert, carried out the execution.
All of these men were tried by military courts martial and would have been handed over to military authorities after arrest. The 1928 American forces Manual for Courts - Martial laid down the specific procedures to be used.
The court was normally composed of legally trained officers and usually the prisoner was defended and prosecuted by officers at the rank of captain. All but two trials lasted just one day. In the Smith case, the trial lasted about two working days, but took five days due to his repeated hospitalisations. In only one case (Harrison) did the trial conform to modern standards, it lasted three and a half days. Typically the defence were allowed two to three weeks to prepare their case. In many cases they had less time, and the Court was usually unwilling to grant defence motions to delay the proceedings - only two such motions were granted.
After the guilty verdict, the death sentence could be passed, either by hanging or shooting, at the discretion of the court. (Shooting was the usual sentence in the case of a person convicted of a purely military offence.) It had to be confirmed and reviewed by a Board of Review. If confirmed it was normally carried out in about three months. (Under British law it was three weeks from sentence to execution at this time.)
Execution details.
The normal U.S. Army method of hanging was not permitted in England and this was confirmed by Albert Pierrepoint, in his autobiography. Most of the normal American execution customs were allowed however. Executions by hanging were normally carried out at in the morning of the specified day. (Shooting executions were carried out around ) The British method of hanging was used, there was no standard drop and no hangmen's coiled noose, but an exactly calculated drop using a British style eyelet noose.
US Army regulations laid down that a condemned prisoner at execution "will be dressed in regulation uniform from which all decorations, insignia, or other evidence of membership therein have been removed. Likewise, no such evidences will appear on any clothing used in burial." In all cases the condemned men had the services of the prison chaplain in the days leading up to their execution. They were housed in a condemned cell adjacent to the execution chamber for the last three or four days of their lives.
Records of these hangings indicate that the time between releasing the trap doors and confirmation of death varied considerably. David Cobb's execution took only 3 1/2 minutes until he was officially pronounced dead by three U.S. medical officers. (He was left hanging for one hour, as was the norm in England). It took 22 minutes before George Smith could be certified dead. The average time for 15 of the 16 hangings was 14.8 minutes. (The data is not available for one hanging). It is presumed that the time was taken from the drop until no further heartbeat could be detected by the attending medical officer. This would tally with the time it took for the heartbeat to stop in civilian hangings at the time.
Albert Pierrepoint commented adversely upon the delay caused to the execution process caused by the reading of the death warrant on the gallows and allowing the condemned man to make a final statement. Neither of these things were allowed in British executions but were standard practice in American ones. Typically there were up to 20 witnesses and officials in the execution chamber. After execution the bodies were buried in Brookwood Cemetery in Surrey. Many were later re-buried in France.