Mary Eleanor Wheeler (Pearcey). Can murder run in a family?
The Wheeler family is almost certainly unique in having the father and daughter both hanged, a little over 10 years apart, for two completely separate murders. Mary's father, Thomas Wheeler, was executed by William Marwood at St. Albans prison in Hertfordshire on the 29th of November 1880 for the murder of a local farmer, one Edward Anstee. In the condemned cell, Thomas had written a letter to the farmer's widow apologising for what he had done and asking her forgiveness and prayers that his sins should not be visited on his wife or then 14 year old daughter. Sadly this was not to be.
Background.
<![if !vml]>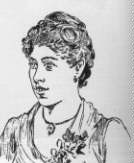 <![endif]>Mary Eleanor Wheeler was born in 1866 and little is known of her childhood or what effect her father's execution had on her. At the time of her arrest, she was 24 and was described as being 5' 6" tall with "lovely russet hair and fine blue eyes."  She was of normal build and had nice shapely hands. Her face was not overly pretty but she seemed to have no difficulty in attracting men.
In her late teens, she had a relationship with a carpenter named John Charles Pearcey and although they never married, Mary took his name and continued to use it after they split up, probably to avoid the stigma attached to her father's name.  She was arrested, charged and tried under this name.  Mary associated with better off men and had never worked or ever needed to - one of her several admirers, Charles Creighton, had rented rooms for her at 2 Priory Street, Kentish Town in North London around 1888.  She was known to suffer from depression and had only her aged mother and an older sister as relatives. She also drank quite heavily. In addition to Mr. Creighton who visited her once a week, she also fell for Mr. Frank Samuel Hogg who was a furniture remover and who impressed Mary by having printed business cards. Mary used to put a light in her window to let Frank know that she was free and he had a key to the house. There was, however, one serious snag to Mary's happiness.  Frank was married and had a daughter, both his wife and the little girl being called Phoebe.
The crime.
Phoebe Hogg was 32 at the time of her death and had been quite ill in February of 1890. She had married Frank Hogg in November 1888 when she was three months pregnant by him and had given birth to their daughter, Phoebe Hanslope Hogg, in the summer of 1889.  Frank's affair with Mary had been going on both before and during the marriage.
On the morning of October 24th, 1890, Mary, it is alleged, asked a young lad to run an errand for her. She gave Willie Holmes a penny for delivering a note to Phoebe Hogg inviting her to tea that afternoon.  Around 4.00 p.m., Charlotte Priddington, Mary's neighbour, heard the sound of breaking glass coming from Mary's house and called over the fence to check that she was okay but received no reply.  At , a woman's body was discovered lying on a pavement in Crossfield Road by a man returning from work and he promptly reported it to a policeman. The woman's head was wrapped in a cardigan which he removed to yield the bloodstained face of Phoebe Hogg with a huge gash in her throat. The body was removed and taken first to Hampstead Police Station and then to the morgue. It was found that the deceased had a fractured skull and that the throat had been cut so violently as to nearly sever the head. There were also bruises on the head and arms, consistent with her having tried to defend herself.  Examination of the place where the body was found indicated that the murder had taken place elsewhere.  At this time, the police did not have an identity for the corpse. Later that evening, a constable on the beat discovered a heavily bloodstained pram in Hamilton Terrace about a mile from where the woman's body was found. The following morning the body of a small child was discovered. She was found to have died from suffocation and was otherwise unmarked except for a few scratches. It was possible that little Phoebe had either been suffocated during or after the murder of her mother or alternatively been placed in the pram alive with her mother's body on top of her and that it was the weight of her mother's body that suffocated her.
Frank Hogg and his sister Clara reported Phoebe missing after reading about the discovery of the woman's body in the Saturday evening paper. Frank sent Clara round to Mary's to ask if she had seen Phoebe which Mary denied, but agreed to accompany Clara to the morgue to see if was indeed Phoebe's body. Mary's behaviour there was very strange. Having consented to go with Clara, when first shown the body, Mary reportedly said "That's not her" although Clara identified Phoebe's clothes.  She did her best to try and prevent Clara identifying the body and became almost hysterical when the full extent of Phoebe's injuries became apparent. The police asked Mary and Clara to view the pram which Clara identified as belonging to Phoebe. A neighbour of Mary's stated that she had seen Mary pushing the pram with a large object in it on the evening of the murder. Frank Hogg was informed of the positive identification of his wife and as a possible suspect himself, was searched by the police. He confessed to having the affair with Mary when the key to her house was found. The police decided to interview Mary next as they were already suspicious of her behaviour in the mortuary and so went round to Priory Street and carried out a thorough search of her home. They found substantial bloodstains and spatters in the kitchen together with a bloodstained carving knife and fire poker. There were also clear signs of a struggle - with two broken windows in the kitchen.  A rug showing bloodstains smelt strongly of paraffin where an attempt had been made to clean it. Mary's behaviour became more bizarre during the police search. She sat at her piano singing and whistling loudly and attempted to explain away the bloodstains by saying that she had been "killing mice, killing mice," a hardly credible excuse.
Detective Inspector Banister decided to arrest Mary at this point and charge her with the murders of both mother and child. When Mary was searched, bloodstains were found on her clothes, scratches on her hands, and two wedding rings on her fingers, one of which was later identified as Phoebe Hogg's. Mary was kept in custody and appeared at a committal hearing at Marylebone police court on the 28th of October, for a magistrate to hear the prima facia evidence against her and committ her for trial. While in the police court awaiting the committal hearing, she told Sarah Sawhill, the woman looking after her, that Mrs. Hogg had indeed come to tea that afternoon and that as they were having tea, Mrs. Hogg had made a remark that offended Mary and that an argument developed. Mary realised that she was incriminating herself and declined to say anymore.
The trial.
Mary was tried at the Central Criminal Court of the Old Bailey before Mr. Justice Denman who had 11 years earlier tried Kate Webster, her three day trial opening on December 1st, 1890. The prosecution was led by Mr. Forrest Fulton assisted by Mr. C.F. Gill and her defence by Mr. Arthur Hutton. Mary entered a formal plea of not guilty and then the prosecution began to outline its case against her. They read out various letters that Mary had written to Frank Hogg, which were claimed to show the depth of her passion for him prior to his forced marriage to Phoebe, consequent upon her pregnancy. Mary had told Frank that even if he had to marry Phoebe, she did not want him to leave her and that she would treat Phoebe as a friend (which for a time at least it appears she did). The suggested motive for the murder was jealousy of Phoebe, now that Mary had to share Frank with her. Evidence was also given regarding the place of the crime and the nature and method of infliction of Phoebe's injuries. John Pearcey identified the cardigan found round Phoebe's head as one he had given to Mary, and evidence was given of the blinds being drawn in Mary's house on the afternoon of the murder.  Arthur Hutton questioned the circumstantial evidence against her and also whether a woman of her size and build would be capable of inflicting such dreadful injuries on the deceased. Mary gave no evidence at the trial and remained impassive throughout. She was found guilty after just 52 minutes on the lunchtime of the third day. In accordance with normal practice Mary was asked, "if she had anything to say why the Court should not give her judgement of death in accordance with the law" to which she replied, "I say I am innocent of this charge."  Mr. Justice Denman then donned the black cap and sentenced her to hang.
There was no appeal in those days - it was to be 1907 before the Court of Criminal Appeal was set up. However, her solicitor made considerable effort to save her alleging that she was not in control of herself at the time of the killing and that this was due to epileptic fits that she had suffered since birth.  On the 16th of December the Home Office wrote to Mr. Freke Palmer informing him that a medical enquiry under the Criminal Lunatics Act had been granted.  This was to be carried out on the Friday by three doctors, Bennett, Gilbert and Savage whose hour long interview with Mary did not find evidence of legal insanity and after due consideration of their report, her case papers were marked with the fatal words, "the law must take its course."  This decision was communicated to her solicitor on the Saturday.  At Mary's request, Frank Hogg was given permission to visit her on the Monday afternoon in Newgate but did not show up, which greatly upset Mary, who wept inconsolably on her bed when she realised he was not going to come. Other than that, she remained very composed through her last day and night. On her final afternoon, Mary was visited by Mr. Freke Palmer, her solicitor, whom she asked to deal with certain bequests and also to place a personal advert for her in the Madrid newspapers which was to read: "MECP Last wish of MEW. Have not betrayed. MEW. (Mary Eleanor Wheeler) Mary refused to elaborate on the meaning of this message and also refused point blank to confess to Mr. Palmer, despite persistent questioning, with the promise that he would put any relevant facts before the Home Secretary in a last ditch attempt to get a reprieve.
Execution.
Mary was to be hanged by James Berry two days before Christmas 1890 (three clear Sundays after sentence) at London's Newgate prison. On arrival back at Newgate from the Old Bailey, she would have been made to take a bath and been given a prison uniform - a plain grey shift dress, before being taken to the condemned cell where she was guarded round the clock by three teams of wardresses.  The Sheriff of London, Sir James Whitehead, had decided to exclude newspaper reporters from her hanging, presumably out of deference to her sex and age. The execution was scheduled for Tuesday, the 23rd of December and Berry arrived at the prison on the Saturday. Mary noticed him looking at her through the judas (peep) hole in her cell door and remarked to the women guarding her, "Oh, was that the executioner.? He's in good time isn't he? Is it usual for him to arrive on the Saturday for the Monday? (Home Office regulations required the hangman to be at the prison by on the afternoon prior to the hanging.) Her guards reported that on the night before her execution, "her fortitude was remarkable." 
Berry entered the condemned cell a few moments before and said, "Good morning, madam" to Mary and shook hands with her. He then went on, "If you're ready madam I will get these straps round you" to which Mary replied that she was quite ready. So Berry placed the leather body belt around her waist and secured her wrists to it in front of her. According to James Berry, the Sheriff of London, Sir James Whitehead, asked if she had any final statement to which she replied "My sentence is a just one and much of the evidence against me false." (see later) Two of the wardresses guarding her now took up position, one on each side of her - Mary told them she didn't need assistance and would be able to walk by herself, but this of course had to be ignored as it was a Home Office requirement that she be escorted. One of the women said she would accompany Mary who said, "Oh well, if you don't mind going with me I am pleased" and then kissed all three women before the procession started out from the cell along the corridor and across the yard to the execution shed.  It consisted of the Sheriff, the under sheriff, Mr. Metcalfe, the Chaplain, the Reverend Duffield, Colonel Milman the Governor of Newgate, Dr. Gilbert, the prison doctor and at least three male warders.  Berry reportedly drew the white hood over Mary's head as she emerged into the yard to prevent her having to see the instrument of her doom.
The gallows at Newgate was a large structure, constructed in 1881, and capable of taking up to four prisoners side by side, although on this occasion only a single noose dangled from the 6 links of iron chain attached to the metal bracket in the centre of the beam. Mary weighed 9 stone and Berry set a drop of six feet for her. Once on the drop, she was supported by two male warders while her legs were pinioned and the brass eyelet of the noose was positioned under the angle of her left jaw and the rope drawn tight. (Click here to see a picture of the actual noose). Berry checked that the scaffold was clear and quickly pulled the lever. The "ponderous" trapdoors crashed down and Mary disappeared from view leaving just the taught rope in sight. She died without a struggle - her neck broken instantly by the length of the drop and the position of the eyelet.
Although reporters were allowed to witness executions the Governor had decided to exclude them on this occasion as it was a woman being executed.  Outside the prison in the bitterly cold December morning some 300 people, including many women, had gathered to witness the sounds of St. Sepulchre's Church bell tolling and the black flag flying above the prison to denote that the execution had been carried out. Mary apparently evoked little public sympathy, perhaps due to murdering the child and there was a cheer from the crowd as the flag was hoisted.
Her body was left dangling on the rope for the customary hour in the brick lined pit beneath the trap and then removed and placed in a coffin atop of the now closed trapdoors for viewing by the coroner's jury.  She was buried later in the day in an unmarked grave within Newgate. Madame Tussaud's made a wax model of her for the Chamber of Horrors, (click here for photo) as was normal in celebrated cases and bought the pram from Frank Hogg together with some of the other effects.
Mad or bad?
There was reliable evidence that Mary had been an epileptic since childhood and her solicitor Mr. Freke Palmer unearthed a considerable volume of evidence on her epilepsy and two suicide attempts, which he suggested, indicated that Mary was less than sane. It should be noted, however, that epilepsy is not, nowadays, considered a form of mental illness. To have epilepsy is to have recurrent seizures. A seizure is a temporary state of abnormal electrical activity within the brain. The word "temporary" is important and these occasional seizures do not in themselves amount to mental illness. Epileptic automatism has been successfully used as a defence in murder trials because it proves that the person could not have formed the intent to kill while they were having the seizure.
However in Mary's case, none of this added up to a legal defence of insanity which was governed by the McNaughten Rule. This had arisen from the case of Daniel McNaughten who in 1843 tried to kill the Prime Minister, Sir Robert Peel, against whom he had an imaginary grudge but instead shot his secretary, Mr. Drummond. The court found him not guilty of the crime by reason of insanity because at the time it occurred, he either did not know what he was doing or if he did, he did not know that it was wrong. In McNaughten's case, it was found that he didn't know what he was doing at the time of the shooting. The McNaughten Rule was interpreted very strictly in Mary's days (it was to be widened later) and there was little scope for this defence to succeed. Mr. Palmer publicly expressed his disappointment with the Home Secretary saying that it seemed that the whole world was against her. There is a distinct element of truth in this - probably caused as much as anything by the murder of the baby and by her promiscuous behaviour as it would have been seen through Victorian eyes.
If Mary wasn't insane (at least according to the legal definition in force at the time), was she suffering from a personality disorder? It is impossible to estimate the effect upon a 14 year old girl of having her father arrested, convicted and hanged for murder, but one certainly feels that these events would have had a profound effect on her. As stated earlier, she had twice tried to commit suicide in the 10 years between her father's death and her own.
Like many murderers, Mary was a first time offender - there is no evidence of previous convictions for any offence nor use of violence. Was there, though, some hereditary predilection to violence? Evidence of pre-meditation was put forward at her trial and yet there is very little evidence that Mary tried to cover her tracks or to clean up the house afterwards which one might have expected her to have done. Was she in an epileptic state at the time of the crime or perhaps she had been drinking prior to it to give her courage for the grim task ahead? One of her neighbours said in evidence that she appeared "boozed" when she saw her after the murder and this symptom is also found in people recovering from an epileptic fit and can be seen in the eyes.
Some interesting questions remain.
Mary was described by James Berry as the calmest person present at her execution. Was she like so many other murderers resigned to her fate and keen to rid herself of the burden of guilt and of the secrets she carried? She did not seem to be seeking a reprieve or welcoming of Palmer's efforts on her behalf.
It was reported in the press and Berry repeats it in his memoirs (see above) that Mary confessed the justice of her sentence just before she was led to the gallows, but one wonders whether this is what they would have liked her to have said rather than what she actually said. Did she perhaps say, "My sentence is an unjust one and much of the evidence against me false?"  She had refused absolutely to confess to her mother or her solicitor prior to the execution, both of whom questioned her closely. She was aware of her imminent death, as she told her mother, but would not budge on her story of knowing nothing at all about the killing. Mr. Freke Palmer pressed Mary repeatedly on whether she had any recollection at all of the events, but Mary declined to admit any and brought the meeting to a very definite close having asked him again to place the advert for her in the Spanish papers. It may be that she had come to believe that she must have killed Phoebe and the baby as everyone said she had done so and, therefore, accepted responsibility for the crime without actually being able to remember it.
I believe that she did actually kill Phoebe and the baby, the evidence for her being the killer is very strong, but feel that it was more likely to be because of an argument and fight that developed between the two women rather than it being a premeditated crime. She may well be found to have "diminished responsibility" nowadays although, of course, the concept wasn't recognised then.
It is, however, quite possible that she was either still in denial of the crimes, which had after all only taken place two months earlier, or genuinely could not remember anything if as Mr. Palmer suggests that she was in an epileptic state at the time. It is not unusual for people to block out the memories of particularly horrible events from their minds and the murder of Phoebe Hogg was certainly an horrific one. Mary's behaviour in the mortuary is odd to say the least - while one can accept that the sight of Phoebe's corpse would be upsetting for anyone, at that stage only Mary and Clara knew who it was on the slab. Her behaviour when the police were searching her house is even more bizarre. Is this strange behaviour evidence of Mary being in denial or revolted by what she had done?
The defence questioned whether a woman of Mary's size and build would have the physical strength to inflict the appalling injuries on Phoebe Hogg and it does seem a fair question, although there is no evidence that anyone else was involved. Phoebe was said to be 5' 6" tall and seemed to have put up quite a fight as witnessed by the broken windows, etc. in the house when the police examined it later.
Evidence of premeditation was given to the court - the written invite to Mrs. Hogg to come to tea and the alleged pulling down of the blinds to provide privacy during the attack. But what was it that made Mary lash out with such violence against Phoebe Hogg on that particular occasion? Did they quarrel over Frank or was it something one of them said that started an argument as suggested by Mary in the conversation with Sarah Sawhill. Was it, as the prosecution alleged, a premeditated plan hatched by Mary out of jealousy to eliminate her rival. She had, from the age of 14, been acutely aware of the punishment for murder but made virtually no effort to destroy the evidence of the crime nor take a lot of trouble in the disposal of the bodies which seems strange if she had planned the murder and had hoped to escape the consequences. Sadly, we will never know the answers to these questions.
With special thanks to Monty Dart for helping with the research for this case from contemporary newspaper accounts.