The construction of Holloway Prison, to the designs of James Bunstone Bunning, began in 1849 and was completed in 1852 to form the City of London House of Correction, opening in October 1852. As built, it had three wings for males and one for females and juveniles. It was the main prison for the City of London and had cost £91,547 10s 8d. There were 436 cells, 283 for males, 60 for females, 62 for juveniles, 18 refractory cells, 14 reception cells and 14 workrooms.
In the period 1881-1882, B&C wings were extended to provide 340 new cells and in 1883-1884 a new hospital wing was constructed.
Remand prisoners were sent there and perhaps the most famous of these was Oscar Wilde. Female suffragettes were also imprisoned in Holloway. The prison was known locally as "Camden Castle" for obvious reasons – see picture below.
<![if !vml]>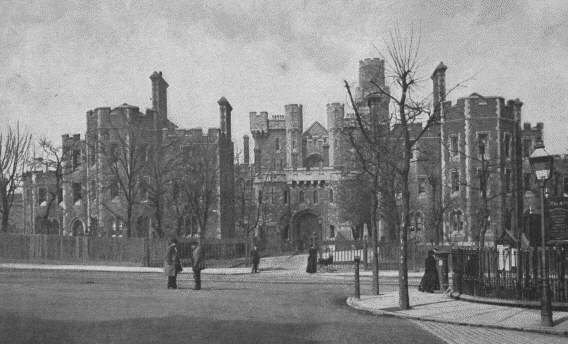 <![endif]>The ending of transportation and the closure of Newgate necessitated more places for female prisoners and so Holloway was refurbished and became a purely female prison from 1903. In this format it had capacity for 949 women. An additional wing (DX Wing) was added in 1905, boosting capacity by a further 101.
As a prison, Holloway (seen here in the early 1900's) housed remand and convicted women prisoners and those sentenced to death in London. (Previously, London's female executions had been carried out at Newgate.)
These included the only women to be sentenced to death for spying under the Treachery Acts of 1914 and 1940. During the First World War, Swedish born Eva de Bournonville was convicted of spying, but was reprieved and served six years in prison. Men were not so fortunate - 11 were shot and one hanged for spying during this war.
In 1941, Dorothy Pamela O'Grady was caught walking in areas of the Isle of Wight that were sensitive and from which the public had been banned. She was also accused of cutting an army telephone line and possessing a document with information on defence measures. She was tried at the Old Bailey, the jury taking just over an hour to find her guilty. The death sentence was mandatory under the Treachery Act. However, hers was also commuted, after her appeal, and she served 14 years in Holloway.
Another "lucky" lady was 18 year old Elizabeth Maude (also given as Marina) Jones. Jones came from Neath in South Wales and was working as a barmaid, waitress and cinema usherette, before becoming a striptease artist in London, under the stage name of "Georgina Grayson." She met up with a young Swedish-American army deserter, 22 year old Karl Gustav Hulten, who passed himself off as Second Lieutenant Ricky Allen and impressed Jones with his claims to being a gangster from Chicago. For a short while, they both engaged in robberies and other more minor crimes. But on October the 7th 1944, Hulten and Jones got into a taxi driven by George Edward Heath at Chiswick in London. Hulten ordered Heath to drive around before shooting him in the back and stealing his money and the car. Heath's documents were found on the body and a description of the Ford V8 car was able to be circulated. Two days later police found the car in London's Fulham Palace Road and lay in wait to see whether anyone would come for it. A little later, a man dressed as an American officer approached the car and was arrested. He gave the name of Richard John Allen. He was interrogated by the American Army CID to whom he revealed his correct name. Although he had gone absent without leave and had stolen a pistol, it was decided by the American authorities to hand him over to the British civil authorities for trial on the much more serious murder charge. Hulten denied the shooting and implicated Jones who had told a friend that, "If you had seen somebody do what I have seen done you wouldn't be able to sleep at night." This was reported to the police and she too was arrested, making a statement saying Hulten had shot Heath. He in turn stated that she had been an active and willing participant in the crime.
They both stood trial at the Old Bailey, from the 16th of January 1945 for six days. The jury found them equally guilty and the inevitable death sentences followed. Hulten was hanged at Pentonville on Thursday, the 8th of March 1945. Jones was in the Condemned Cell at Holloway and would presumably have been hanged at the same time on that Thursday, had she not have been reprieved two days earlier. Her sentence was commuted to life and she remained in prison until 1954. It is thought that her age was a major factor in the decision to spare her.
In all, 47 women were to spend time in Holloway's Condemned Cell. Of these, 40 were reprieved and this figure included 18 who had killed their infant children and nine who had killed their older sons or daughters. One case was quashed by the Court Appeal and one woman was found insane and sent to Broadmoor. Twenty two year old Elsie Yeldham was convicted in 1922 of a robbery/murder and had to live through the hanging of her husband, to whom she had only been married for three months, in nearby Pentonville, although she herself was reprieved two weeks before his execution.
The gallows at Holloway.
When the prison was converted for female use, and with the closure of Newgate, there was a requirement for an execution facility. An execution shed, as was then the fashion, was erected at the end of B Wing. This shed contained the gallows which could accommodate two prisoners side by side. At this time, the press could still be admitted to executions although there is no record of this happening at Holloway. Sometime in the mid 1930's, a new condemned suite was created on the first floor of the prison in E Wing, formed from five ordinary cells, and was quite spacious. It comprised of a visiting cell with a glass partition to separate the prisoner from the visitor, a bathroom and a day cell (Cell 17). The lights were kept on 24 hours a day and the prisoner guarded round the clock by at least two wardresses. On one wall of the day cell, there was a wardrobe which normally hid the door into an empty cell between the day cell and the execution chamber (Cell 19). The execution chamber itself was just 15 paces from the day cell and contained a double gallows set over the cell below to act as the "pit." A metal ladder in one corner provided access to the cell above, containing the beam, for setting the drop and to the "pit" below.  There was an autopsy room adjacent to this cell. Click here for a plan of the facility. Executions took place at and afterwards there was an autopsy and a formal inquest before the women's bodies were buried in unmarked graves within the grounds at lunchtime on the day of execution.
Executions at Holloway.
Five women were to be put to death at Holloway between 1903 and 1955. This represents 33.3% of all 20th century female hangings in England and Wales.
Amelia Sachs and Annie Walters were the first women to be hanged here and theirs was to be the last double female hanging in Britain. They were executed for the horrible crime of baby farming by William Billington and Henry Pierrepoint on Tuesday, the 3rd of February 1903. It is thought that they may have murdered as many as 20 infants. Click here for a detailed account of their case.
Edith Jessie Thompson, aged 28, was carried to the gallows some 20 years later, at on the 9th of January 1923 to be hanged by John Ellis in the old execution shed. At the same moment, less than half a mile away, her lover Frederick Bywaters was being hanged in Pentonville prison for the murder of Edith's husband Percy.
Her execution caused considerable public disquiet as many doubted her guilt and the true meaning of the various love letters that passed between her and Bywaters. Click here for full details of this case. While Edith was in the Condemned Cell, there was another woman under sentence of death at Holloway. She was 36 year old Daisy Wright who had been convicted of murdering her daughter and was subsequently reprieved.
After a gap of over 31 years, in which no women were executed at Holloway, although 25 had occupied the condemned cell, there were to be two hangings in eight months.
The first was that of Styllou Pantopiou Christofi, who was a 53 year old Greek Cypriot woman. By 1953, she had not seen her son, Stavros, for 12 years and had saved up sufficient money for the passage to Britain in July of that year. Stavros had married a German girl called Hella Bleicher and they lived together in Hampstead in London. He worked as a waiter and she as a shop assistant and they had three children and a happy marriage. But all of that was to change with the arrival of his mother. Styllou continually picked on Hella and found fault with everything she did until the point was reached where Hella decided to go to Germany with the children for a holiday on the understanding that Stavros would get his mother to go back to Cyprus before she returned. Before Hella could get away, tragedy struck. On the night of the 29th of July, she went to take a bath, having got the children to bed when her mother in law came into the bathroom and hit her over the head with a heavy ash pan from the boiler. Having knocked Hella unconscious, Styllou then dragged her into the kitchen and strangled her. In an effort to dispose of the body, she poured paraffin over Hella and lit it, setting fire to the house in the process. In panic and fearing for her grandchildren, she ran into the street and raised the alarm. The police and fire brigade turned up to find Hella's partly burnt corpse in the kitchen. One of the police officers noticed the marks of strangling on her neck and Styllou was arrested. She told him, "Me smell burning, me come down, me pour water, but she be died." A neighbour had seen Styllou set fire to the body but had not realised it was a human body, thinking rather that she was trying to burn a tailor's dummy.
She was charged with the murder and put on trial at the Old Bailey on the 28th of October 1954. Her counsel put forward a defence of insanity which the jury rejected. She was, therefore, sentenced to death and returned to Holloway to be hanged by Albert Pierrepoint on Wednesday, the 15th of December 1954. She asked for a Maltese Cross to be put on the wall of the execution chamber opposite to where she would stand and this wish was granted - it remained there until the room was dismantled in 1967. Her motive for the killing appears to have been jealousy over what she saw as Hella replacing her in Stavros' affections. It is thought that she had also committed an earlier murder in Cyprus. Click here for full details of this case.
Ruth Ellis became the last woman to be executed in Britain when she was hanged by Albert Pierrepoint at Holloway on Wednesday, the 13th of July 1955, for the murder of her boyfriend, David Blakely. He had refused to see her over the Easter holiday so she lay in wait for him outside the Magdala pub and when he came out, shot him five times with a revolver on the Easter Sunday evening. She was arrested immediately by an off duty policeman and equally quickly convicted by the Old Bailey jury. Her execution caused a great deal of public controversy, both at home and abroad. Pierrepoint remarked to waiting journalists afterwards that for all their interest in Ruth they had shown scant interest the previous year when he had hanged Styllou Christofi. Click here for a detailed account of this famous crime.
Only one more woman, after Ruth Ellis, was to spend time in the Holloway's condemned cell. She was Freda Rumbold who had been convicted of murdering her husband in November 1956. All death sentences were being commuted at this time as the new Homicide Act of 1957 was being finalised and she was reprieved and given a life sentence.
The rebuilding of Holloway Prison in 1970 required that the bodies of the five executed women be moved. Sach, Walters, Thompson and Christofi were reburied in unmarked graves at Brookwood cemetery in Surrey, as their families could not be traced or did not want the remains returned to them. Ruth Ellis' body was reburied at St. Mary's Parish Church in Amersham in Buckinghamshire. Edith Thompson's grave has since received a memorial stone, erected on the 13th of November 1993.
The new prison opened in 1977 with a capacity of 532 women, both convicted and remand prisoners and is equipped with a mother and baby unit.
My friend Molly Cutpurse has a lot of further information about the original Holloway prison and this can be viewed here.
Back to Contents page The female privately hanged 1868 - 1955