Ruth Ellis – the last woman to hang in Britain.
Ruth Ellis has always been portrayed as the victim of a cruel boyfriend who abused her and a cruel legal system that hanged her. But is this really an accurate picture? Based upon the known facts, which are very well documented, I propose to take an "alternative" look at this famous case.
<![if !vml]>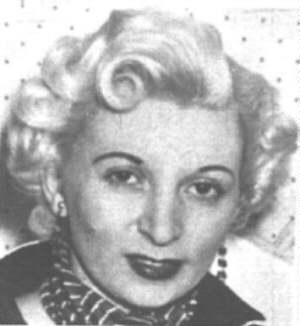 <![endif]>On Wednesday, the 13th of July 1955 at London's Holloway Prison, she secured her place in history becoming the 18th and last woman to be executed in Britain in the 20th century. Her case is memorable because she was hanged, had she had been given a life sentence she would have been forgotten in a few weeks by most people.
Background.
Ruth Hornby was born in the seaside town of Rhyll in North Wales on the 9th of October 1925, the third of six children.  She moved to London in 1941 and in 1944 became pregnant by a Canadian soldier, giving birth to her son Clare Andrea Neilson.  Ruth became a model and also a night club hostess, working initially at the Court Club where she met, and in November 1950 married dentist George Ellis. In 1951, she gave birth to a daughter, Georgina, whom George refused to acknowledge.  The couple split up soon afterwards and Ruth went back to nightclub work, becoming the manager of the Little Club in 1953.  This was a popular club with the motor racing fraternity and it was here that she met 25 year old, former public school boy, David Drummond Moffat Blakely, who was trying to build a racing car with his friends, the Findlaters.  He was soon living with Ruth in her flat above the club and they had a passionate and tempestuous relationship which led to physical violence on occasions.  During one of these altercations, in January 1955, he punched her in the stomach which caused her to miscarry.  David was known to be a heavy drinker and was jealous of Ruth's flirting with other club members, as she was of his other relationships.
Ruth began seeing Desmond Cussens, who was some four years her senior.  He had been a bomber pilot during World War II and when Ruth knew him was a director of Cussens & Co. She lived with Desmond for a time but continued to see David as well.
The Crime.
As stated above David was building a racing car with Ant Findlaters, and over Easter weekend of 1955 consistently refused to see her, having promised to do so and despite repeated visits and phone calls by Ruth to the Findlater's home. They had, unfortunately, taken on a nanny whom Ruth suspected David was having an affair with, although in truth he wasn't.
So in a pique of jealousy and rejection on Easter Sunday afternoon (the 10th of April 1955), Ruth persuaded Desmond to drive her to Hampstead where she lay in wait for David outside the Magdala public house in South Hill Park where he and Findlater were drinking.
When they came out to the car at around , she called out to David who ignored her, so armed with a 38 calibre Smith & Wesson revolver she fired a first shot and then pursued him round the car firing a second shot, which caused him to collapse onto the pavement.  She then stood over him and emptied the remaining four bullets into him, as he lay wounded on the ground. At least one bullet was fired from point blank range and left the tell tale powder burns on his skin. One bullet injured a Mrs. Gladys Yule in the thumb as she was walking up to the pub.
Other drinkers came out of the pub to see what had happened and Ruth was arrested by an off-duty policeman, Alan Thompson, still holding the smoking gun. She was taken to Hampstead police station where she appeared to be calm and not obviously under the influence of drink or drugs, which she is alleged to have been taking by some, on the afternoon prior to the shooting. She made a detailed confession to the police and was charged with murder.
Committal and remand.
Ruth appeared at a special hearing of Hampstead Magistrates Court on the Easter Monday, (Aprill11th) where she was remanded in custody to Holloway Prison to await trial. She was placed in the hospital wing and kept under observation day and night. During her initial interview on the Monday afternoon, she again described the details of David's killing. The Principal Medical Officer, Dr. Mervyn Ralph Penry Williams, examined her and interviewed her twice, finding no evidence of mental illness.  Ruth consented to and undertook an electro-encephalograph examination on the 3rd of May. This also failed to find any evidence of brain abnormality. While on remand in Holloway, she was also examined by Dr. D. Whittaker, psychiatrist for the defence, on June the 4th and by Dr. A. Dalzell on behalf of the Home Office, on the 9th of June. Neither man found any evidence of insanity. Ruth discussed her feelings on the days leading up to and including the murder, with Dr. Dalzell, and he reported to the Home Office that he found no evidence of delusions, hallucinations or other form of mental illness. These examinations were required by law to ensure that Ruth was legally sane and therefore fit to plead at her trial.  Under the Trial of Lunatics Act of 1883 where evidence existed of insanity at the time of the crime was committed, the accused was to be committed to Broadmoor at Her Majesty's Pleasure. Some 428 people were found to be insane out of 3,130 people (13.6%) who were committed for trial for murder between 1900 and 1949.
The trial.
Her trial opened on Monday, the 20th of June 1955 in the Old Bailey's No. 1 Court before Mr. Justice Havers. The prosecution was led by Mr. Christmas Humphries, assisted by Mervyn Griffith Jones and Miss Jean Southworth, whilst the defence was led by Mr. Aubrey Melford Stevenson, assisted by Mr. Sebag Shaw and Mr. Peter Rawlinson
Ruth appeared in the dock in a smart black two piece suit and white blouse, her hair re-dyed to her preferred platinum blonde in Holloway with the special permission of Dr. Charity Taylor, Holloway's governor. Hardly the image of the poor downtrodden woman!
She pleaded not guilty, apparently so that her side of the story could be told, rather than in any hope of acquittal. She particularly wanted disclosed the involvement of the Findlaters in what she saw as a conspiracy to keep David away from her.
When the prosecuting counsel, Mr. Christmas Humphreys asked her, "Mrs. Ellis, when you fired that revolver at close range into the body of David Blakely what did you intend to do" she replied, "It was obvious that when I shot him I intended to kill him." So the jury were presented with a tacit admission to the shooting plus the all important admission of intent to kill.
There were legal submissions made by Mr. Melford Stevenson, QC, counsel for the defence, regarding provocation. Mr. Justice Havers said he had given careful consideration to these but ruled that there was "insufficient material, even upon a view of the evidence most favourable to the accused, to support a verdict of manslaughter on the grounds of provocation."
Mr. Melford Stevenson said that in view of that ruling it would not be appropriate for him to say anything more to the jury.
The jury were then brought back into Court and in their presence Mr. Melford Stevenson said, "In view of the ruling which your Lordship has just pronounced I cannot now with propriety address the jury at all, because it would be impossible for me to do so without inviting them to disregard your Lordship's ruling."
Mr. Christmas Humphreys indicated that in the circumstances, he would not make a final speech to the jury either.
The Judge then summed up. After reviewing the evidence for the prosecution, his Lordship said: "You will remember that when Mr. Stevenson made his opening address to you he told you that he was going to invite you to reduce this charge of killing from murder to manslaughter on the grounds of provocation.
"The House of Lords has decided that where the question arises whether what would otherwise be murder may be reduced to manslaughter on the grounds of provocation, if there is not sufficient material, even upon a view of the evidence most favourable to the accused, that a reasonable person could be driven by transport of passion and loss of control to use violence and a continuance of violence, it is the duty of a judge, as a matter of law, to direct the jury that the evidence does not support a verdict of manslaughter. I have been constrained to rule in this case that there is not sufficient material to reduce this killing from murder to manslaughter on the grounds of provocation."  "It is therefore not open to you to bring in a verdict of manslaughter on the grounds of provocation."
Referring to the evidence for the defence, the Judge said: "This Court is not a court of morals, this is a criminal court and you should not allow your judgement to be swayed or your minds to be prejudiced in the least degree against the accused because according to her own admission she had committed adultery, or because she was having two persons at different times as lovers. Dismiss those matters wholly from your minds."
Mr. Justice Havers continued, "But I am bound to tell you this, that even if you accept every word of Mrs Ellis' evidence there does not seem to be anything in it which establishes any sort of defence to the charge of murder."  The jury then retired and not surprisingly found Ruth guilty after deliberating for only 23 minutes. It was hard to see how any other verdict was possible.
To convict a person of murder two things have to be proved, 1) that the person actually killed the victim (known as the "actus reas" or the "guilty act") and 2) that they intended to kill the victim (known as the "mens rea" or the "guilty mind") - clearly there was no question as to whether Ruth had actually killed David Blakely and by her famous answer to the question as to her intention when she fired the shots, there could be no question as to her intent. If it had been possible to show that she had not intended to kill him, the correct verdict would have been guilty of manslaughter.
Mr. Justice Havers had no alternative but to sentence her to death. The black cap was placed on his head and she was asked if she wished to say anything – she remained silent and stood impassive as he then sentenced her to be taken to the place where she had last been confined and from there to a place of execution where she would suffer death by hanging. To which she replied, "Thank you".
Unlike many people who have just heard their death sentence, Ruth did not faint or become hysterical but rather turned on her heel, smiled to her friends in the public gallery and walked calmly down the stairs at the back of the dock. She was taken back to Holloway in a prison van and placed in the Condemned Suite where she was guarded round the clock by shifts of two female warders.  It has been stated by Nigel Havers (the actor and grandson of Mr. Justice Havers) that as trial judge, his grandfather had recommended a reprieve for Ruth in his post trial report to the Home Office but, unusually this recommendation was rejected.
In the Condemned Suite at Holloway.
Like all condemned prisoners Ruth was permitted to have visitors and was visited by the Bishop of Stepney, Joost de Blank, in whose diocese the prison is situated, as well as her family and friends.
The High Sheriff of London provisionally set Wednesday, July the 13th for the execution pending an appeal. Ruth decided against this as there were absolutely no legal grounds for an appeal. The final decision on her fate therefore rested with the Home Secretary, Major Gwilym Lloyd George, later Lord Tenby. Despite very considerable public and press pressure, he decided against her. His decision was announced on the afternoon of Monday, the 11th and communicated to Ruth by the governor, Dr. Taylor. She was visited by her mother and her friend, Jacqueline Dyer, within an hour of hearing there would be no reprieve.  Petitions containing several thousand signatures were sent to the Home Office requesting a reprieve.  There was to be one final attempt to save Ruth.  She had requested a meeting with Leon Simmons who had represented her at her earlier divorce, to discuss her will, and he and Victor Mishcon went to see her in the condemned cell at on the Tuesday morning.  Unbeknown to Ruth, they had been asked by her trial solicitor, John Bickford, to make one final attempt to find out from her where she got the gun.  Victor Mishcon was surprised at the woman he saw in Holloway who had by now less than 21 hours to live.  He recalled that she greeted him saying, "how kind of you to come.  I wanted Mr. Simmons to know certain facts which I think may have some bearing on my will."  Mishcon asked her about the gun and she told him that, "I am now completely composed.  I know that I am going to die, and I'm ready to do so. You wont hear anything from me that says I didn't kill David.  I did kill him. And whatever the circumstances you as a lawyer will appreciate that it's a life for a life. Isn't that just?" Victor Mishcon was so struck by these words and her calm demeanour that he never forgot them.  However, she did reveal some more details of the case against a promise from Mr. Mishcon that he would not try and use them to save her.  She told him that she had been drinking with Desmond Cussens over the weekend and had told him that if she had a gun she would shoot David.  He told her that he did indeed have a gun and took her and her son Anrde to show her how to use it.  Andre was later to say that his mother couldn't hit a tree when she fired the revolver.  All this was taken down in writing and Ruth finally and grudgingly allowed it to be taken to the Home Office.  But warder Griffin, who was present during the interview, told the Home Office that Mr. Mishcon omitted a statement by Ruth that she had asked Desmond for the gun.
The Permanent Secretary, Sir Frank Newsam, was out at the races that afternoon and her statement was left with another senior official.  They had the police check this new story but it really didn't make matters any better.  All it actually did was to show even clearer evidence of planning and intent to murder on her part.  Sir Frank Newsam later wrote - "This uncorroborated statement by the prisoner does not add anything material to the information before the Secretary of State when he decided not to interfere. The discrepancy between the officer's report and Mr. Mishcon's statement is interesting and illuminating."
Ruth had her last meeting with her parents and brother on the Tuesday afternoon and they left Holloway around 5.15 p.m. Her brother, Granville Neilson, told reporters that "she seemed absolutely calm and unafraid of what was going to happen to her."  The news of her new statement had made the evening papers and there was now even greater agitation for a reprieve.  Ruth began a final letter to Leon Simmons that evening in which she said, "I did not defend myself. I say a life for a life."  She wrote a postscript to it the following morning telling him that she had not changed her mind at the last moment (about being hanged).  She also wrote a moving letter to David's mother.
It has been disclosed from Home Office files in the National Archives that as Ruth awaited her execution, she only once cried when an MP tried to persuade her into seeking clemency.  Warder Griffin was once again present when Labour MP, George Rogers, tried to persuade Ruth to appeal for clemency and the warder claimed he had browbeaten her into agreeing. Dr. Charity Taylor, the then governor of Holloway, reported, "I have never seen Ruth Ellis so distressed, and the officers reported that for the first time she had cried. She told me she supposed it was too late to change her mind as he was going to the Home Secretary in the morning. "I did not ask her, but I formed the strong impression she did not wish Mr. Rogers to pursue the subject of a reprieve."  Mr. Rogers had taken up the case at the request of one of his constituents in North Kensington, Ruth's friend, Jacqueline Dyer.
The Home Secretary noted  "Our law takes no account of the so-called crime passionel, and I am not prepared to differentiate between the sexes on the grounds that one sex is more susceptible to jealousy than the other.  "In the present circumstance, the woman was as unfaithful to her lover as he was to her. "If a reprieve were to be granted in this case, I think that we should have seriously to consider whether capital punishment should be retained as a penalty."
The police view, expressed by Detective Chief Inspector Leslie Davies, was that it was entirely Ruth's decision to kill David.
He wrote, "It is certain that her action was coldly premeditated because, without thought to her son to whom she is said to be very attached, she left him alone to come to Hampstead with her mind made up to commit this murder."  He went on "On meeting Blakely and realising that his class was very much above her own, and finding he was sufficiently interested in her to live with her, it seems she was prepared to go to any lengths to keep him. Finding this impossible, she appears to have decided to wreak her vengeance on him."
Ruth's father, Arthur Neilson (he had changed his name from Hornby), wrote a brief, poignant letter to the Home Secretary, adding his voice to those demanding a reprieve.
"I respectfully beg of you to use your great influence to spare my poor daughter's life. This terrible tragedy has been a terrible shock to me. I was injured in the Blitz of May 10th 1941. I received a blow on the head which paralysed me down the left side of my body and Sir you will understand my nerves have gone to pieces under the strain.
"My daughter I would have thought to be the last person to become involved in such a crime as a child she was shy and reserved and never gave me any cause for anxiety and later on she was a devoted mother to her two children. I blame the whole sequence of events to the fact of such an unhappy experience of three bad men, the details of which you will know."
"I ask you as a distraught father to show her mercy.
Yours respectfully . . ."
Execution.
Death came quickly in those days, Prisoner 9656 Ellis spent just three weeks and two days in the condemned suite at Holloway.
There was much public sentiment at the time for a reprieve and thousands of people had signed petitions asking for clemency, including 35 members of London County Council who delivered their plea to the House of Commons the day before Ruth was to die. On the Tuesday evening, the eve of the hanging, the Governor at Holloway was forced to call for police reinforcements because of a crowd of more than 500, including the veteran anti capital punishment campaigner, Violet Van de Elst, who had gathered outside the prison's gates singing and chanting for Ruth for several hours. Some of them broke through the police cordon to bang on the prison gates, calling for Ruth to pray with them.
Inside the usual preparations had been made.
Ruth had been weighed at 103 lbs., clothed, and a drop of 8' 4" set. The gallows had been tested on the Tuesday afternoon using a sand bag of the same weight, which was left overnight on the rope to remove any stretch. Around 7.00 a.m. on the morning of execution, the trap was reset and the rope coiled up so as to leave the leather covered noose dangling at chest height above the trap. A cross had been placed on the far wall of the execution room at Ruth's request.
In her cell, Ruth wrote a letter to David's mother, Mrs. Cook, apologising for killing him and finished her letter to Leon Simmons. She was given canvas pants to wear which had been compulsory for female prisoners since the Edith Thompson debacle. She was also given a glass of brandy just before by the prison doctor to steady her nerves.  She was attended by the Rev. John Williams, the chaplain of Holloway.
At about , a telephone call was received at Holloway from a Miss or Mrs. Holmes purporting to be the private secretary to the Home Secretary, saying that a stay of execution was on its way. Dr. Taylor (the Governor) immediately telephoned the Home Office and discovered that the call was a hoax. Dr. Taylor consulted Mr. Gedge, the Under Sheriff of London, and they decided to proceed. This led to a delay to the execution of one minute. Thus a few seconds before , Albert Pierrepoint entered her cell, pinioned her hands behind her back with his special soft calf leather strap and led her the 15 feet to the gallows, accompanied by a male warder from Pentonville holding her elbows on either side.  Pierrepoint recalled that Ruth said nothing at all during her execution. When she reached the trap, a white cotton hood was drawn over her head and the noose adjusted round her neck. His assistant, Royston Rickard, pinioned her legs with a leather strap and when all was ready, stepped back allowing Pierrepoint to remove the safety pin from the base of the lever and push it away from him to open the trap through which she now plummeted.
The whole process would have occupied no more than 12 or 15 seconds and her now still body was examined by the prison doctor before the execution room was locked up and she was left hanging for the regulation hour.  The law required that a female governor or deputy governor be present at the execution of a woman. Thus Dr. Charity Taylor together with Ralph Penry Williams, the prison medical officer witnessed the hanging, and Dr. Penry Williams would have examined her body afterwards.
Around a thousand people, including women with prams, stood silently outside the prison that morning, some praying for her.  At 918am, the execution notice was posted outside the gates and after that the crowd dispersed.
Ruth's body was taken down at 10.00 a.m. and an autopsy performed by the famous pathologist, Dr. Keith Simpson, which showed that she had died virtually instantaneously. Unusually, the autopsy report was later published and Simpson noted the presence of brandy in her stomach. The official inquest report of her execution read as follows, "Thirteenth July 1955 at H. M. Prison, Holloway N7": Ruth Ellis, Female, 28 years, a Club Manageress of Egerton Gardens, Kensington, London - Cause of Death - "Injuries to the central nervous system consequent upon judicial hanging."
An inquest was held by Mr. J. Milner Helme, the then Coroner for the City of London, later on the Wednesday morning and Ruth's brother made a formal identification of her body.  A scarf had been put round her neck to hide the rope marks. Ruth's body was buried within Holloway prison around lunchtime, in accordance with her sentence, but later disinterred and reburied in the churchyard of St Mary's Church in Amersham Buckinghamshire when Holloway was rebuilt in the 1970's. Her death was registered on the 14th of July 1955 (the day after the execution) on the basis of a Certificate issued by the Coroner in the Registration District of Islington, Sub-district of Tufnell as Entry Number 25 for the September Quarter 1955.
Click here for a drawing of the condemned suite and execution room in Holloway and here to read Ruth's autopsy report.
Did Ruth deserve to hang?
This is a very subjective question and it is always dangerous to judge a case from a previous and very different age.  Opinion at the time was polarised.
However, in view of the evidence presented to them and the law as it stood in 1955, the jury had absolutely no option but to find Ruth guilty of murder. It was, after all, a murder that was premeditated and did not fit the legal definition of provocation as it was not carried out in the heat of the moment. At that time, a murder conviction carried a mandatory death sentence leaving the judge absolutely no discretion. Like all condemned prisoners, she was examined by a panel of Home Office psychiatrists who found her to be legally "sane," i.e. not suffering from any demonstrable mental illness that could be identified at the time that would have been severe enough to diminish her responsibility for the crime.
The problem in Ruth's case, as in so many others before and since, is the imposition of a mandatory sentence for murder. The jury were not permitted to reach a manslaughter verdict and, in fairness, the evidence they heard simply did not justify it and thus were left only with a verdict of guilty of murder. Had they been asked merely to reach a verdict of guilty to homicide, leaving the actual sentence to be decided by others, perhaps she would have gone to prison for a few years and never been heard of again. But our legal system in the 50's was very much "all or nothing" and for that matter still is, although the mandatory death sentence has been replaced by the mandatory "life sentence."  The question of whether Ruth deserved death or not was not one the jury were able to consider - if they had been, it is very unlikely that she would have been hanged. The American concept of degrees of murder had been discussed in Britain but always rejected.
Ruth had many qualities that engendered great public interest, she was an attractive, sexy young woman, a mother of two small children and a murderer whose victim was probably seen by most people as far from blameless. Her crime could hardly be described as "evil," a subjective concept admittedly, but a very important one in the minds of the general public in determining the justice of a case. She also behaved with great courage at all times, which no doubt, earned her considerable respect.
Not surprisingly, the press gave tremendous coverage to the story and in doing so, aroused considerable sympathy for her. Much was made of her recent miscarriage and of the violence she suffered at David's hands.
Another major factor that induced public sympathy was the knowledge that those prisoners who were reprieved seldom served more than 10-12 years in prison which made execution seem a very harsh punishment by comparison. If "lifers" were known to serve 30 or 40 years it would, perhaps, have seemed much more proportionate.
This was a time when there was a substantial majority in favour of capital punishment but that support had been known to waver when it came to executing an actual person, particularly when that person was female, attractive and had not committed a particularly awful crime. (See also Edith Thompson)
The evidence in Ruth's favour.
There seems little to suggest that she would have been a danger to the general public had she been released on parole after serving say 10 years of a life sentence. She had shown no propensity to violence to anyone other than David.
She had clearly suffered much provocation, of the sort that many people who have experienced a passionate relationship would be able to appreciate, even if it fell outside the strict legal definition of provocation. She had certainly been the victim of a considerable amount of violent abuse from David, much of it witnessed by their friends and her customers.
It was known that she had suffered a miscarriage in 1955, after David had punched her in the stomach and it is at least probable that this would have affected her mental state.
Her crime was at least somewhat understandable, unlike those who, for instance, rape and murder small children and are outside the understanding of most of us.
She showed remorse and willingness to accept responsibility for her crime, having made no attempt to run away or hide the truth of what she did or of what she had intended.
It would be easy to add here that she was, at 28, relatively young and that she had two small children, although these factors are, in my view, "red herrings" that should have no place in deciding whether or not to reprieve her.
How important is it to uphold the law even in "hard cases"?
In 1955, Britain had the death sentence for the crime of murder and in upholding the law, it is very important that a sentence, once passed, be carried out even when the instinct of many would have been to reprieve. The problem in Ruth Ellis' case is that so many others were reprieved for no apparently more obvious or deserving reasons. 90% of the 145 women sentenced to death in the 20th century were reprieved. More to the point, here are three cases from the spring of 1955 to compare the justice or otherwise of Ruth's punishment against.
A woman was reprieved the week before Ruth died for murdering her next door neighbour with a shovel in what seemed quite as bad a crime as Ruth's. Forty year old Mrs. Sarah Lloyd was sentenced to death at Leeds Assizes on the 6th of May 1955 for killing her 86 year old neighbour, Mrs. Emsley, after a long running feud between the two women. She was due to be executed on July 7th but was reprieved on the 5th. Her case had attracted virtually no publicity, and it was really only her husband who made any effort on her behalf to obtain a reprieve. She served just seven years of her life sentence for this crime.
Sgt. Emmett Dunne was reprieved at the same time for murdering a colleague, whose wife he was having an affair with, simply because the offence took place at a British Army base in Germany, which was therefore on British Sovereign territory. Germany did not permit capital punishment, even for soldiers from a foreign country, so Emmett Dunne remained in prison for 11 years before being released on licence.
On April the 1st 1955, 28 year old Alfred "Jake" Wayman was reprieved four days before he was due to hang for the murder of his girlfriend, Josie Larvin, who he had stabbed to death before he cut his own throat and stabbed himself. He survived this but was reprieved on the grounds that the throat wound might open up if he was hanged and lead to an unpleasant mess. He served 12 years of his life sentence.
One can only conjecture how the same Home Secretary could make such different decisions and they could ever be justified to the "ordinary person in the street." There was no question of actual guilt in any of these cases so that wasn't the issue. Therefore, either all four should have been hanged as the law decreed or the law should have been changed and none of them hanged. In reality, half of all convicted murderers of both sexes were reprieved during the 20th century. This made the whole system a lottery with typically an average of 11 "losers" a year - hardly justice!
Three factors would have counted against Ruth with the Home Office. 1) She used a gun to kill David and in doing so 2) injured an innocent passer-by in the street.  Where a murder was committed using a firearm or poison there was an un-written rule at the Home Office that the killer must hang.  3) Ruth had, by the standards of the day, very dubious sexual morals. This was seen as much more serious in the 1950's than it would be now.
On a purely personal note I have always wondered if one of the less publicised reasons the Home Office had for executing her was because of the public interest and sympathy that her case generated. I think the Home Office officials were, in the main, against capital punishment by this time and in the cynical way of the Civil Service, could have used Ruth Ellis as a pawn in persuading parliament to abolish hanging. When there is public interest in a particular case, letters are written to MP's and to the press by ordinary people who would never normally publicly express a view. In Ruth's case these were predominately in favour of a reprieve. So by executing her, the Civil Service possibly felt they were furthering the abolitionist cause. Did the same happen in Derek Bentley's case four years earlier?
In any event, Ruth's case led to the Homicide Act 1957 which limited the types of murder that were capital and introduced the defence of diminished responsibility. (Ironically, neither of these changes would necessarily have saved her.)  Capital punishment was effectively abolished nine years after her death, and there were no executions in Britain during 1956 and the first half of 1957.
It is interesting to compare the public sympathy and interest in Ruth's case to the total lack of either in the case of Mrs. Styllou Christofi, hanged eight months earlier.  Mrs. Christofi was an unattractive middle aged Greek Cypriot woman who had brutally murdered her daughter-in-law (and possibly another person previously) and in whom there was very little media interest. Albert Pierrepoint made this point to the army of reporters waiting to interview him after Ruth Ellis' execution. He hanged both of them.
Equally the other women hanged since the end of the war, Margaret "Bill" Allen and Louisa Merrifield, had very little attraction (sex appeal?) for the media and for various reasons elicited little public sympathy.
One has to decide whether one is in favour of the death penalty for all those convicted of capital crimes or not. If you are, you will, inevitably, have to accept that some prisoners will have more endearing qualities than others but that these cannot or should not be any excuse for a reprieve.
An "alternative" conclusion.
We are told that Ruth's principal motive was jealousy and it seems reasonable to accept that this was the prime mover in her subsequent actions. It has been said that David wanted to end their relationship, although we cannot be sure of that or of whether Ruth knew of his intention. But in any event, there are some very interesting questions raised by the case:
Why did she not try finding another boyfriend - she had plenty of potential boyfriends available?
Why did she give no thought to what would happen to her children?
Why did she choose to murder David when she knew that she could well be hanged for doing so?
Why did she choose to murder him in a public place where there would be witnesses and then calmly allow herself to be arrested rather than trying to escape?
Why did she choose to kill him in the way she did thus removing any possibility of a manslaughter verdict?
Why did she play out her ice cold act in court and give the answers she did to the prosecuting counsel?
Why did she not appeal or do anything whatsoever to save herself?
It is always assumed, particularly by the media, that nobody could actually want to be executed. (Although there have been a number of cases of what the Americans call consensual execution in that country over the last 20 years.)
Although she was found to be legally sane, she was also clearly not entirely "normal" in any accepted sense of the word. Normal people do not have such complete disregard for their own lives and more particularly for the lives of their children. (Her son Andria later committed suicide in 1982.)
But what if her motive was to kill David and then to die herself, so ending their earthly relationship and ensuring that he could not be unfaithful to her again?
It has been said that she intended the last bullet for herself although this cannot be proved. Perhaps in the heat of the moment, she did not count the shots or perhaps she could not bring herself to commit suicide. So was being hanged merely a form of state-assisted suicide without the risk of "bottling out " at the last moment or of not actually succeeding in killing herself?
She apparently had no intention of serving a life sentence and being finally released an old and broken woman. This idea certainly did not appeal to her.
Perhaps she wanted to be punished and being hanged fitted her own romantic/masochistic image of what should happen to her for the murder of her errant lover.
As stated earlier, she was known to be in favour of the death penalty (reiterated by her in a letter she wrote to her solicitor in her last hours in Holloway.) She also seemed to have a clear idea of what execution by hanging in the 20th century was like. She told her friend Jacqueline Dyer, "Don't worry, its like having a tooth out and they'll give me a glass of brandy beforehand."
Obviously, we can never know the innermost workings of her mind over this period but one could almost say that she did everything she could to manipulate the system to obtain her death from it.
Had she pleaded guilty, she would have been sentenced to death, but her testimony would not have come out and the Home Office would have simply decided for her what her intentions and state of mind were at the time of the shooting and might have reprieved her.
She was, as said earlier, found sane when examined in Holloway by prison psychiatrists, but was she sane at the time of the murder? Or was she driven mad by jealousy? We cannot know - but she effectively blocked any defence of temporary insanity by her answers to the prosecution's questions.
One can only wonder why she behaved as she did and continued to pursue her death with total courage right up until the end.
Much has been made of where Ruth got the revolver and of what Desmond Cussen's role in the killing was (Desmond is the man Ruth referred to in her last statement to Victor Mishcon). She claimed up to that point that she had been given the gun by a customer as security for some money. What difference does it make where the gun came from? She wanted a gun and either had one in her possession or obtained one. In those days, she would have had no problem in obtaining a gun through her wide circle of contacts. It has also been claimed that Desmond was a party to the killing. This, I feel, is unlikely. He drove Ruth to Hampstead - that is not in doubt. Whether he was really aware of her intention to kill David is not clear. As stated earlier he was a director of the family business, a wholesale tobacconists called Cussen & Co. It seems that he was infatuated with Ruth and like many weak willed men, would have done anything for her, in the hope that she would finally love him instead of David or at least just to get her company for awhile. I cannot believe that he would have let Ruth murder David in the way she did, had he known of her intentions or really thought that she would have carried them out. People in 1955 knew the likely punishment for murder - Desmond would certainly have done so and also known that even if Ruth was reprieved, she would have to serve a life sentence. I tend to think that he would have done his best to dissuade her from shooting David rather than have been her co-conspirator - he had everything to lose by knowingly allowing what actually happened. He could well have gone to prison himself for a lengthy period for aiding and abetting her in the offence. Had Desmond wanted David dead (and there is no hard evidence that he really did), I am sure he would have found a way that was not likely to result in tragedy for Ruth and the loss of the woman he loved.
8th of February 2002.
At the behest of Muriel Jakubait, Ruth's sister, and Ruth's daughter Georgie, who died soon afterwards, the Criminal Cases Review Commission (CCRC) referred Ruth's case to the Court of Appeal.
Evidence was presented to the CCRC that Ruth was suffering from post-miscarriage depression at the time of the shooting. It was also suggested that she was suffering from post-traumatic stress disorder, although this condition had not been medically defined in 1955.
It is further claimed that her original defence team were negligent and that she was persuaded to commit the crime by Desmond Cussen, who was jealous of David. It is alleged that she was physically and sexually abused by her father and was beaten by her husband George Ellis.
The Appeal Hearing.
The appeal finally came before the Appeal Court in London on Tuesday, the 16th and Wednesday, the 17th of September 2003.  The judges were Lord Justice Kay, Mr. Justice Silber and Mr. Justice Leveson.  The Court was asked to overturn the murder conviction and substitute a verdict of manslaughter on the grounds of provocation and/or diminished responsibility.  Michael Mansfield QC, appeared for the appellant and introduced evidence to show that Ruth was suffering from "battered woman syndrome" when she shot David.  It should be noted that "battered woman syndrome" was only accepted as defence to homicide in 2000 and therefore could not apply retrospectively. Michael Mansfield claimed that she had been "disgracefully treated" by him and that this could have left her in an intensely emotional state.
He also claimed that Mr. Justice Havers and the prosecution and defence barristers involved in the case were "labouring under a misconception of the law." They believed that, to establish provocation, the defence had to prove the killing was not motivated by malice, but that what happened was in the "passion of the moment" without any intent to kill or cause grievous bodily harm.
Mr Mansfield argued that this was an incorrect view and that the correct construction of the law on provocation as it then stood was that there was an intent to kill, but that it arose out of a passionate loss of control and provocative conduct.  He suggested that "cumulative provocation" incited her to shoot David and that this was not considered in the original trial.
Evidence was adduced to show that despite Ruth giving up her job and the flat that went with it and providing David with money, he regularly beat her up, at one point so badly that she went to hospital. Afterwards, he apologised with flowers and a card and she accepted him back again as she always did.
In January 1955, Ruth discovered that she was pregnant with David's child. In her original testimony, read to the Appeal Court, Ruth described a fight in which "David got very, very violent. I don't know whether that caused the miscarriage or not, but he did thump me in the stomach."
David returned to Ruth on the Wednesday before she murdered him to profess his "undying love" for her and promised to marry her. On the Saturday night, it is claimed that Ruth sat in an empty house opposite and watched a party where David was cavorting with a nurse. A doctor at the original trial said: "The situation was now absolutely intolerable for her. She considered he was being unfaithful at that moment but she was convinced he would return and she wouldn't be able to resist him." This behaviour was the trigger, Mr Mansfield said, for manslaughter, not murder.
Further evidence came from a retired midwife now living in Australia, who gave a written statement to the Criminal Cases Review Commission in 1999.  Moreen Gleeson, then in her 20's, saw Ruth in the street, allegedly on the night she shot David. She was "stressed and weeping."  Apparently she told Ms. Gleeson: "It's my boyfriend. He's in there with another woman. He won't let me in!" Ruth was "quite distraught."  To calm her, Ms. Gleeson suggested taking her home for a coffee. She said: "Ruth was crying again and said, as if surprised, "Oh! I've got a gun!"  She also said a bulky man with a "proprietary air" loomed up and stood "possessively" over Ruth. This was understood to be Desmond Cussen. 
(It is difficult to see how Ms. Gleeson's statement helped the appellant's case, as all it does is to provide further evidence of pre-meditation and intent to kill.)
Mr. David Perry appeared for the Crown at the appeal.  He told the Court that at the time of her trial, there was no such defence as diminished responsibility, and the defence of provocation required evidence of a sudden loss of self control in immediate response to a provocative act.
In Ruth's case, although it is accepted that she had been violently ill-treated by her lover in the past, the only provocation on the day of the killing was his breaking off their affair by failing to contact her even though he had promised to do so. Even if that amounted to provocation, her response to it was wholly disproportionate he said.
The Verdict.
On Monday the 8th of December, Lord Justice Kay delivered the Appeal Court's ruling dismissing the appeal as "without merit" and finding that Ruth had been properly convicted of murder at her original trial.
The Homicide Act of 1957 changed the law to allow a defence of diminished responsibility but the Appeal Court ruled that this defence was not available at the time of Ruth's trial.  If the defence of provocation was to succeed, it had to be proved that Ruth had been subjected to violence immediately before the murder rather than in the recent past.
Lord Justice Kay said: "Under the law at the date of the trial, the judge was right to withdraw the defence of provocation from the jury and the appeal must fail."  "If her crime were committed today, we think it likely that there would have been an issue of diminished responsibility for the jury to decide. But we are in no position to judge what the jury's response to such an issue might be."
The Court was critical that the case had been referred to it at all, by the Criminal Cases Review Commission, (the body which examines possible miscarriages of justice) and stated that it could have dealt with 8 to 12 cases had it not had to consider this one.
Lord Justice Kay said, "We have to question whether this exercise of considering an appeal so long after the event, when Mrs. Ellis herself had consciously and deliberately chosen not to appeal at the time, is a sensible use of the limited resources of the court of appeal."
He added: "On any view, Mrs. Ellis had committed a serious criminal offence. This case is, therefore, quite different from a case like that of James Hanratty, where the issue was whether a wholly innocent person had been convicted of murder."
Comment.
I totally concur with the Appeal Court's judgement – Ruth's conviction was perhaps one of the safest convictions for murder ever!  She did not deny the fact of shooting David or her intent to kill him – and these are the two vital ingredients of the crime of murder as opposed to manslaughter.  Many people live with abusive relationships where one or both partners is unfaithful and resorts to violence but very few choose to solve the problem by murdering their partner.  Ruth did have alternatives – she could have dumped David and lived with Desmond or found someone else.
Every person has a "background" and many defendants in serious cases have been or claim to have been abused as children, but the law takes no account of this in deciding guilt or innocence.  Nor can it - most people who have had difficult or abusive childhood's go on to be law abiding citizens.
This is not to say that I do not have sympathy with Ruth's family, nor to say that, subjectively, she deserved to hang for what she did, but I do feel that this was an attempt to re-write legal history to suit today's anti-capital punishment values. If this case had succeeded, one could argue that every capital case resulting in execution would have to have been re-examined.  Ruth was punished in accordance with the law of the time, not the law as we might like it to be.  Many people have been hanged over the last 200 hundred years for what we would now consider to be minor offences – but that does not mean that they were not guilty or that their punishment was excessive when viewed by the values of their day.  We cannot judge history by today's standards, whatever the emotional appeal of a particular case.
Ruth's famous "crime passionel" was recaptured 30 years later in the film "Dance with a Stranger" in which Miranda Richardson gave an excellent portrayal of this volatile and emotional woman. Sadly, the film only told half the story and gave no coverage of the trial and her behaviour at it or her evidence in answer to the questions put to her.